If it's hot and sunny outside, then I'm applying sunscreen all over first thing in the morning – and the same goes for my kids.  That way, if we go outside, we're covered, and if we're outside for longer than an hour, then more sunscreen goes on.  AT that rate, guess what?  I'm going through a bottle of sunscreen a week, especially if it's creamy because then I'm applying tons.
Hence all these sunscreen reviews, which are going to keep on coming.
Aveeno's Positively Radiant Body Cream has SPF 15 in it, and comes in a convenient 59mL bottle so it's going into my purse for reapplication.  It's soft and creamy, so I even like putting it on my hands throughout the day.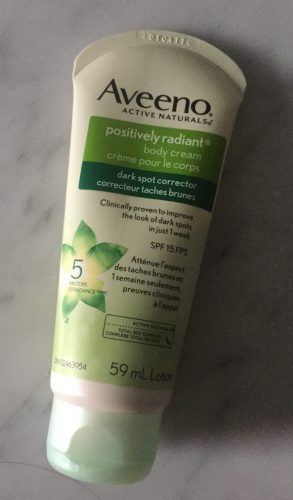 Does it improve the look of dark spots?  I haven't seen a difference, but there's a tiny amount of golden shimmer in which helps make your skin look glowing and pretty.
$9.47 at drugstores and mass merchandisers.