I'm into Tinted sunscreens at the moment, and Avene's Tinted Mineral Fluid has the tint that closest to my skin tone at the moment, so I'm loving it!  The SPF 50 formula is made up of zinc oxide which is so finely milled that it won't really show up on your skin.  The tint is a golden brown colour that is natural-looking and doesn't provide too much coverage.  This is pretty much the perfect tinted moisturizer.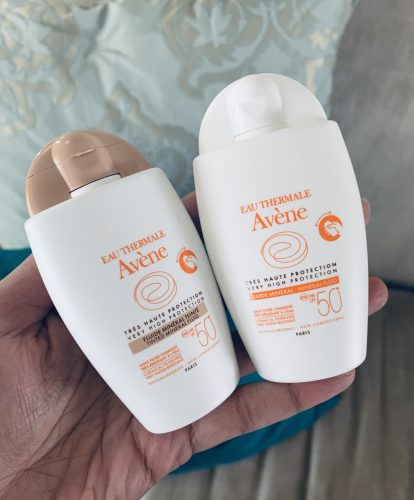 I will say that I'm not a fan of the untinted Mineral Fluid because it showed up blue-white on my skin tone and looked so obvious that I would never use it.
The formula for both is slightly greasy so I like to apply powder on top, but it's also moisturizing and natural-looking so I do like to use it and find it comfortable to wear.
Available at drugstores for $36.
For those that are interested, I swatched both these sunscreens in my Spring Favourites video, so I've reposted it below.