Are you a lotion user?  A daily moisturizer?  I know I am.  Between myself and my kids, I go through a lot of lotion, and so I like getting it in as big of a bottle as possible, which why it's awesome news that Avene is making their XeraCalm Lipid-Replenishing Cream and their XeraCalm Lipid-Replenishing Balm in larger 400ml pump bottles.  The smaller 200ml bottles have a pump too, so that the product inside stays sterile.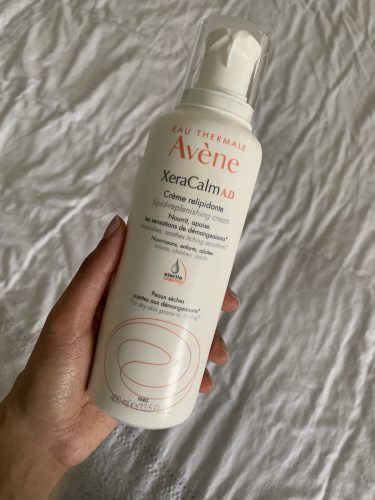 The XeraCalm line is made for sensitive skins.  Fragrance-free and made of glycerine and mineral oil, this line not only invites moisture into skin but it also seals it in.  The formulas are also preservative, paraben, and alcohol free.  It absorbs quickly and then leaves skin super soft, touchable, and moisturized for the whole day.  I'm loving using it and I love that it's gentle enough to use on my kids.  It's a basic basic moisturizer, but it's so well formulated.  The pump bottle means that no air or bacteria can get in so it'll stay clean.  The unique design of the pump (it has a cap) means that you can pack it to go with you – I put it in our swimming bag so that there's tons of lotion for after swimming.
You can find the line in drugstores.  The 400mL bottle is $36.