If you have oily skin, but you want to wear sunscreen that's not greasy, this is going to be the best $15 that you spend. It's Avon's Magix Prime which used to be called just Magix, and I used it back in 2016!
Now it's called Magix Prime and it has updated black and white packaging.  The formula seems to be pretty similar to what I used way back then but I can't be sure because I don't have them side by side.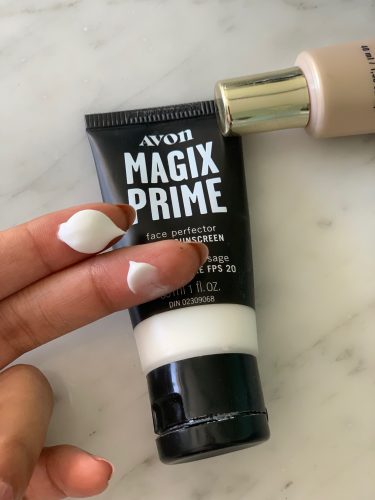 This is a silicone-heavy, very powdery sunscreen that is completely clear.  Avon says that you can use it as a makeup primer, because it's oil-free and it absorbs oil, but honestly, everyone in my house loves using this because it's non-greasy and clear.  It definitely helps makeup glide on and it looks flawless for hours.  You can definitely wear this under foundation or on its own, and both ways will help your skin look smoother.
If you avoid sunscreen because you don't like how greasy it is, then this one is for you.  It only has SPF 20, but that might be enough if you spend most of your day inside.
Available online.