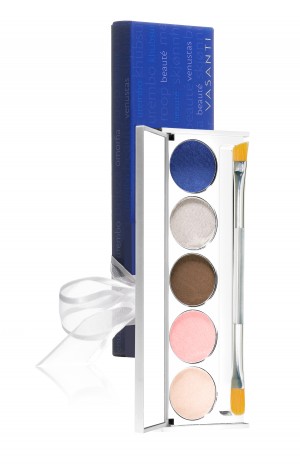 If there's one thing I love, it's palettes because you get a neat package that has everything you could need in it. It's a good feeling to be able to clean out your makeup drawer and have just a couple of items and a palette in there. Here are a few of my favourites right now:
Vasanti The Hamptons palette.
This palette is a quad of shadows and has everything you could need for a day or night look. I love that there's a beige that's easy for everyone to wear, a highlighter, a warm peachy colour, a brown that's perfect for shading, and a deep blue that makes for a nice unusual eyeliner. By no means is this an unusual palette – but it's a nice basic one that's good to have on hand, and the colours can really give you a pretty look.
Cargo Dare to Play Palette, and 7 in 7 Kit.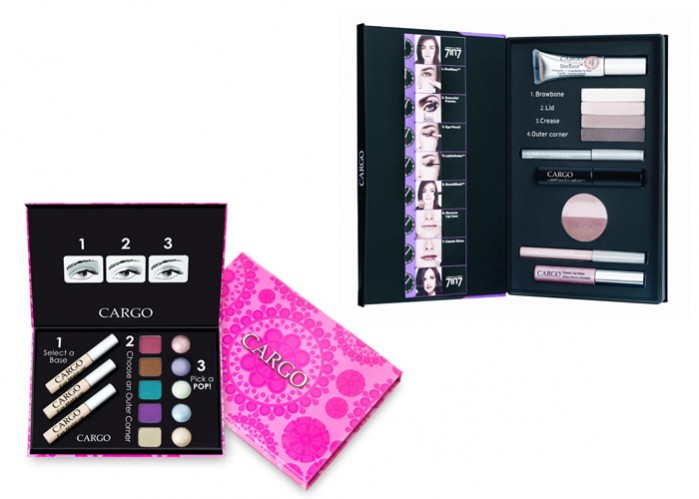 I am loving these two Cargo palettes that have come my way. The first one is the Dare to Play Palette which has everything that you need to create bold eyes – I call them eyes for going out. The best thing about this palette is that even though Cargo says that it's for creating a bold eye, you can use it for creating any look that you want. it is the perfect palette for traveling with because it has whatever you need to create any kind of look. The eye bases really do help shadow stay on longer, and Cargo has a shimmer version that you can wear without any shadow on top for a quick effortless look. The shadow contained is baked and so is shimmery and glittery – perfect for adding oomph to your look and because the shadows are in this cardboard case, there's slim chance of them falling apart on your trip. The kit is $45 which is well worth it because you'd spend more getting the shadows separately and you would never finish them anyway.
The 7 in 7 Mini Kit is more for everyday. It streamlines your beauty routine and comes in Light, Medium, and Dark so that you can get the concealer (OneBase) within that matches your skintone. There's a Mini Essential Palette in the kit so that you can create a classic, sculpted, nude eye, and it also has a Mini Eye Liner, A Mini BeachBlush, and Mini Lipgloss, and Mini LashActivator, so that you are good to go no matter what. This is also a great kit to introduce yourself to Cargo products. I have found the Cargo BeachBlushes to be too shimmery when I try them on at the store, but when I used them at home, I found them to be easier to wear and I found that they do have a nice amount of pigment. The kit has a value of $65 but you can get it for $39.