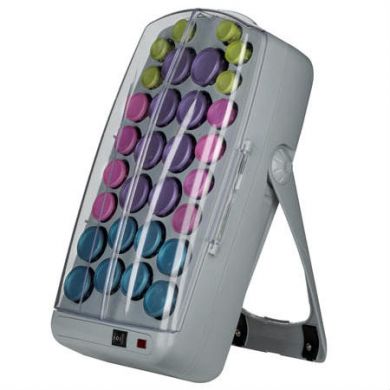 I'm going to a wedding, and one of the things that I absolutely have to take with me is my Babyliss Hair Rollers.  It's not that I can't do my hair without them.  The fact is that whether I'm going to be wearing my hair curly or straight, these rollers just make it look way better.
The Babyliss Pro Ceramic Ionic Hot Rollers are the ones that I have and they are quite amazing.
The rollers take about 10 minutes to heat up completely and come in lots of different sizes.  If you have longer hair, you should use the larger rollers.  They are also useful if you just want to add volume to your hair and not curl.
The smaller rollers are perfect for detail work.  If you want some face-framing curls, for example, then those are the rollers that you should use.
The Ionic part means that the rollers are going to neutralize the charges on your hair so that it's less frizzy and nice and smooth.  I have found them to work even when I'm not really using them to "curl" my hair.  Let me explain: sometimes I use the rollers warm when my hair is damp.  I leave on for 5 to 10 minutes while I get ready in the morning, and then take them out, and set my hair with some hair spray.  I let my hair air dry and find that the curls are the same as my natural curl, but they are softer and perfectly defined.
One feature that I really liked is that the rollers are so well packaged, so that they're never going to get lost.  The box holding the rollers also has a stand, so that it stands upright on your counter and the rollers are within easy reach.
I got my rollers from Fabove.ca where they now retail for $169, which is cheaper than your average straightening iron!