A few weeks ago, something completely bizarre happened to me: I had a case of major breakouts!  These were small but painful blemishes that seemingly came out of nowhere – well, actually they didn't come out of nowhere.  It was a combination of stress, lack of sleep, no exercise, and a major life change that must have brought these on.
I quickly decided that it was time for me to simplify my skincare routine and use something that would just work to help clear up blemishes and give me good clean skin.
I turned to Clinique's Clarifying Lotion 3 (for combination/oily skin), which I always have on hand (I told you it was a staple), even if I don't end up using it.  In fact, the bottle I had hadn't even been opened, and I'm sure I had it for months.  The Clarifying Lotion is just something you can totally depend on.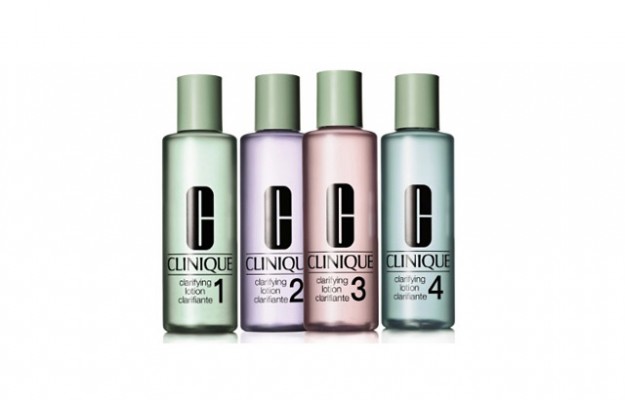 Actually, Clinique's Clarifying Lotion isn't a lotion at all, but is a toner meant to wipe away excess residue and dead skin cells.  It purifies the pores deep down and used consistently it helps get rid of and block blemishes.
I started using the Lotion day and night, and within the week had clearer, smoother skin.  I used it after my regular cleanser, and instead of cleanser on the days that I wasn't wearing makeup.  I liked it so much that it's staying on my bathroom counter and I'm going to continue using it.
The Clarifying Lotion comes for different skin types, including a Mild version formulated without Alcohol. If you have problematic skin and haven't tried this, give it a go.  I've had lots of friends tell me that this is what cleared their skin up for good, and since it's a relatively inexpensive and easy-to-find product, it's worth checking out!
The Lotion is part of Clinique's 3-Step skincare routine which I'm not a fan of.  The routine also includes a cleanser and moisturizer, but the cleanser isn't meant to remove makeup and the moisturizer is on the greasy side.  I stick with the Clarifying Lotion which, by far, has made the most difference to my skin.
$13 for 6.7 oz at Clinique counters everywhere.