While the fall is an exciting time for some, the truth is that with change comes stress as well.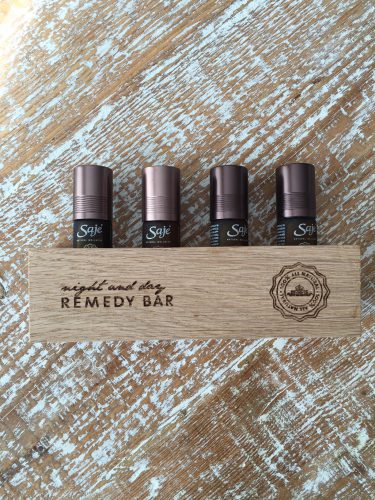 There are lots of ways to deal with stress, but one that's new to me – and becoming more and more popular – is that of using essential oils and aromatherapy.  So when a new location of Saje Natural Wellness opened near me in Southcentre Mall (here in Calgary), I had to check it out to see what the fuss was about.
The appeal is apparent right from the time you enter into the store.  You're greeted with a live plant wall display, and you can hear water trickling.  The scent, as you enter the store, is what adds to that immediate sense of wellness.   The blend of plant botanicals and natural notes is a scent that's at once grounding and uplifting!
Saje uses 100% natural products and remedies and there's a variety of essential oils to choose from; you can search either by what appeals to you, or by what ails you.
And the remedies are really what Saje seems to do best – you can buy a first-aid kit that includes oils that can treat headache or indigestion, but also mood uplifters or relaxers.  For those heading into stressful situations, a drop or two of the right oil applied on a pulse point can really go a long way towards improving mood and shifting focus towards deep breathing and personal wellness.
My favourite way of using essential oils is by applying them on my neck or the inside of my elbow – those are spots where others can't smell them, but I get a whiff of them every now and then, helping to align my focus on to what's most important.
I also love the idea that you can buy the pure oils and then blend them into carrier oils at home to create your own massage and body oils.  It means that you control the strength of the scent so that it's not offensive to you.
If you're interested in Saje Natural Wellness, check out one of their many locations across Canada.
The Night and Day Remedy Bar shown above is $47.95 and available online.