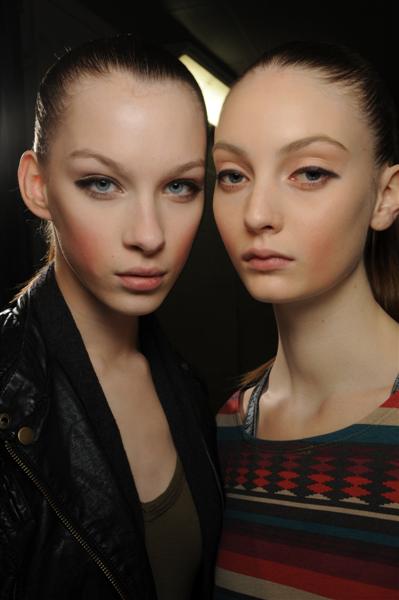 This season, I'm really picking and choosing looks from New York Fashion Week that I can pull off on myself at home.  I noticed lots of orange and other bright colours on the lids, but lets face it, I always come back to my neutral shades, so lets look for something that I can work with!
Marc Jacobs definitely had what I was looking for, and the makeup was done by Nars, so I know that all the shades used will be easy to find and I'll be able to replicate this look myself come fall!
Francois Nars created the look and he wanted the black liner on the eyes paired with flushed cheeks.  Really, this is a look I would love to pull off.  I already wear the liner, but keep my blush kind of boring and natural, so this will take me to the next level.
I also like that the eyeliner is soft rather than being harsh.  It's a more updated and modern look and one that I can't wait to try myself.
Here are the products used (I need to get my hands on the Lokoum blush, and I can't wait to try the liquid eyeliner that's coming out in the fall!):
FACE
Concealer (NEW for Fall 2011; for now, try the existing Concealer)
Lokoum Cream Blush
EYES
Grand Palais Duo Eyeshadow (for now, try using Lokoum Cream Blush)
Larger Than Life Long-Wear Eyeliner in Via Veneto (NEW for Fall 2011; for now try Black Moon Eyeliner Pencil)
Larger Than Life Volumizing Mascara
LIPS
Greta Pure Sheer SPF Lip Treatment