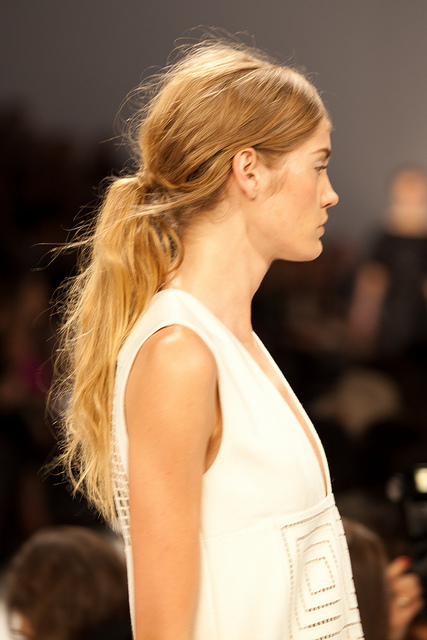 I love wearing Tibi dresses, so I really wanted to see what they'd envision for the girl who wears their clothes.
About the hair, the lead stylists Frank Rizzieri and Kevin Ryan, said: "The collection has a very 60's feel and we didn't want the overall look to be too retro. This is modern, easy-looking hair. It's effortless, current and practical, like a 5 pm hairstyle – a low, messy ponytail that looks as if the girl swept her hair up at the end of a long day."
The hair backstage was messy – there's lots of that going on at NYFW Fall 2012 and it definitely takes the pressure off of perfect hair.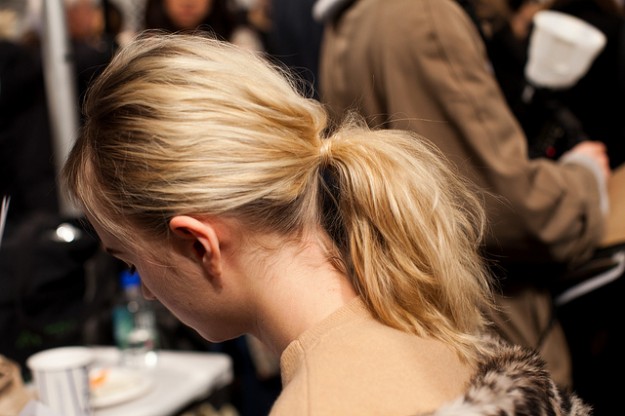 Here's how the Aveda team did it:
1. With a left side part starting at the arch of the brow, liberally spray Aveda Volumizing Tonic root to ends, starting at the nape of the neck and working upwards.
2. Blow dry front section to the side and behind the ears. Dry the rest of the hair back, away from the face, using a blow dryer and hands.
3. Pull hair into a loose ponytail at the nape of the neck and secure with an elastic.
4. Pull a small piece of hair from the bottom of the ponytail and wrap around the elastic to conceal it. Secure ends under the elastic to hold hair in place.
5. Pull random pieces of hair from above the ear and surrounding the face for texture.
6. Finish with Aveda Men Pure-Formance Grooming Clay to shape fallen pieces.