I had to laugh when I saw this picture of Kate and Laura Mulleavy of Rodarte holding on to Aveda water bottles backstage before their show.  They don't look very happy, but I don't think that I would be either if I had to pose while I was so stressed out.
Asked what the inspiration for the collection was, the girls replied:
"The Rodarte Spring/Summer 2011 collection is inspired by Northern California, giant Redwood trees, and 1970's suburban sprawl. For the hair, we wanted to create an innocent look reminiscent of teenagers in the 1970's. For ornamentation, we made hand carved wood, branch, and leaf barrettes."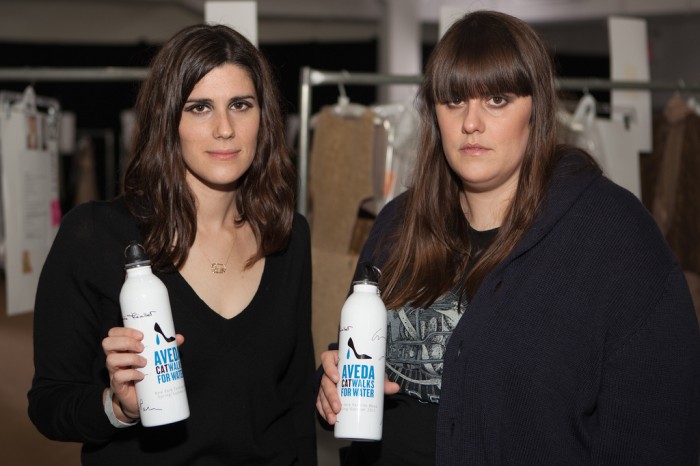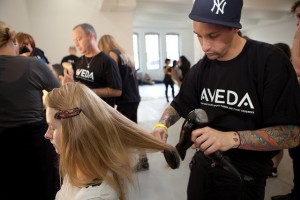 In any case, I loved the hair look for Rodarte.  It was straight and maybe that's boring, but it's going to be what you'll be seeing next spring. Notice them blow drying the hair straight with a paddle brush instead of a round one that we've come to love. That is how they get the hair so straight. When I went into the Aveda salon last week, that's how they dried my hair as well, and it looked fantastic when they were done. I had no idea that you could get such a good look without a round brush.
"The Rodarte hair look for this season is young and innocent. The body is full of natural-looking texture, the ends are straight, and a strong, swooping side part gives the hair a retro feel. The look is inspired by teenagers in the 1970's, so the effect is very organic, adorned with handcrafted tree branch and leaf barrettes that make a statement."
–Odile Gilbert for Aveda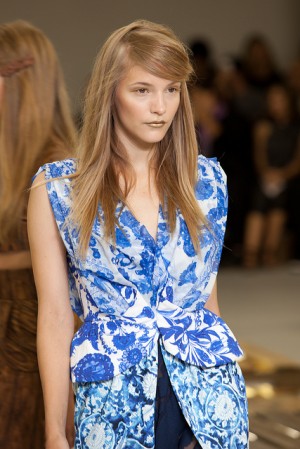 HOW TO GET THE LOOK:
1. Prep damp hair with Aveda Brilliant™ Damage Control to protect hair from heat styling and brow dry straight with a Mason Pearson brush.
2. Using fingers for a slightly imperfect look, create a super-strong part on the left side of the head, parallel to the center of the right eyebrow. Spray liberally with Aveda Air Control™ Hair Spray for shine and light hold.
3. Emulsify Damage Remedy™ Daily Hair Repair in hands to add lived-in texture and prevent breakage. Use fingers to tousle hair and enhance texture and body with Aveda Volumizing Tonic™.
4. Secure a thick barrette to the left side of the hair, just above the left ear. Set the look with Aveda Air Control™ Hair Spray.
AVEDA PRODUCTS USED:
Aveda Damage Remedy™ Daily Hair Repair
Aveda Brilliant™ Damage Control
Aveda Volumizing Tonic™
Aveda Air Control™ Hair Spray