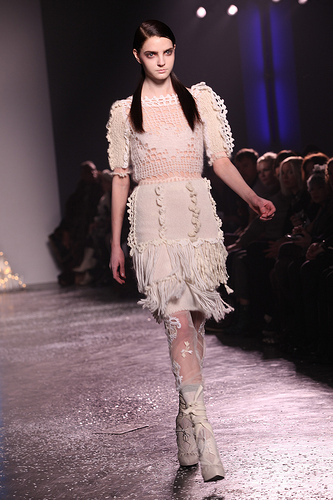 WE love Rodarte because of their ethreal designs and the fact that the collections are designed by real girls who just really love fashion and can express themselves through it.  That's why, when we saw their  Fall/Winter 2010 collection, we fell in love and wanted to share with you.
The designers have said that the "collection this season explores the idea of sleepwalking. The idea of a dream state, or an in-between state, inspired us."
You can see that coming through with the makeup – the girls look pale and wide-eyed as if they are exploring something while being on the brink of death.
You can't see it from the front, but the back of the head has adornments of flowers on it.  It's a quite old-fashioned look, and Odile Gilbert of Aveda said that "Kate, Laura, and I wanted to create a hair look with a dreamy, almost childlike feeling. From the front, the hair looks like it is left down, but in back, it is controlled, adorned with metal flowers that look like barrettes. There's also a Mexican influence on the look, since the Rodarte collection this season is inspired by bordertowns. We wanted to reflect this inspiration with the vintage flower ornaments and shiny, side-parted hair."
Take a look at the how-to that follows: the steps were provided by the stylists that did the hair for Aveda!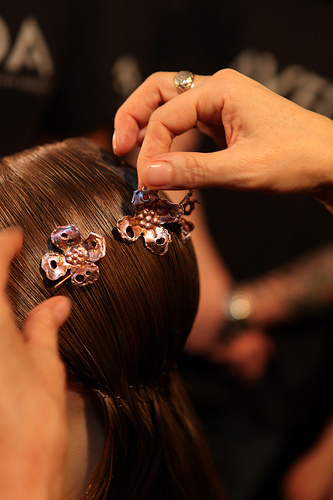 1. Prep damp hair with Aveda Smooth Infusion™ Glossing Straightener for shine and sleekness, and blow-dry smooth with a flat brush.
2. Create a clean left side part. Straighten hair layer by layer using a flat iron.
3. Create anchors for the flower pins by forming three small braids along the scalp: one along the left side of the occipital ridge, one across the center of the head, and one vertically along the left side part. Spray with Aveda Control Force™ Hair Spray for maximum hold.
4. Brush hair over the braids, keeping the left side part clean and strong. Spray each layer of hair with Aveda Control Force™ Hair Spray and blow-dry for intense hold and shine. Hair should be sleek and close to the head.
5. Use small bobby pins to secure hair in a clean line from one side of the occipital ridge to the other, just above the nape of the neck.
6. Secure a selection of metal flower ornaments into the hair horizontally across the head, using the covered braids as anchors. Finish the look with Aveda Control Force™ Hair Spray.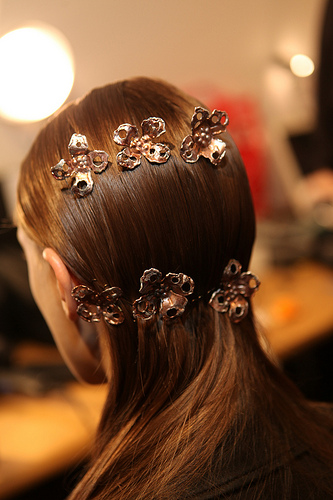 The finished look is pretty but in a standoffish quiet way that is so Rodarte.