Always on the lookout for something that has SPF in it, this week I'm using the bareMinerals Tinted Hydrating Gel Cream.  It has SPF 30 broad spectrum sunscreen in it which is great for people who want a hydrating tinted moisturizer that also has sunscreen in it.  Using a tinted sunscreen product is a life-saver for me, so adding this to my morning routine is a no-brainer.  It has light-medium coverage and a definite glowy finish.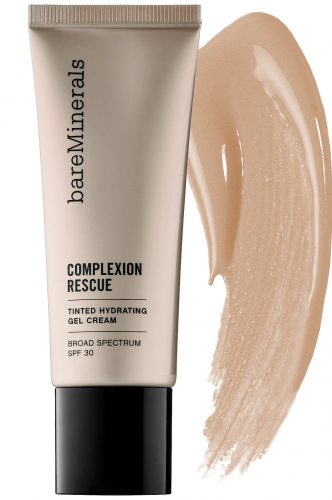 I got the colour Desert 6.5, and it was too dark for me – next time I'm going back for Ginger or Bamboo.  Desert is a good vacation or summer colour for me, while Ginger and Bamboo would work all year long.
I love how this felt on my skin – fresh and hydrating – and I loved the coverage that this gave me, but I wasn't a fan of the glowy finish of this tinted moisturizer.  It's a little too obvious – so much so that my kids asked my why my skin was so shiny today.  If you need some glow – maybe your skin looks dry without it – then this would be for you.  If you have oily skin, you probably don't want it to look any oilier, so this might not be for you.
I liked that it was fairly pigmented, so I applied it with a foundation brush instead of with my fingers.  I find that it gives you more even coverage, and enough coverage that you are getting good sun protection.  With my fingers, I just tend to smooth everything away.
This is available at Sephora. $39.