Plant-based food is the new trend, and I'm slowly jumping on board, and plant-based skincare is here too with Basd Body Care.  This line of body products is completely organic and based-out of Waterloo, Ontario.
The products in the line are available in a Creme Brulee and Invigorating Mint scents.  I've got the Creme Brulee and wow, it smells so good.  Like freshly-baked sugar cookies.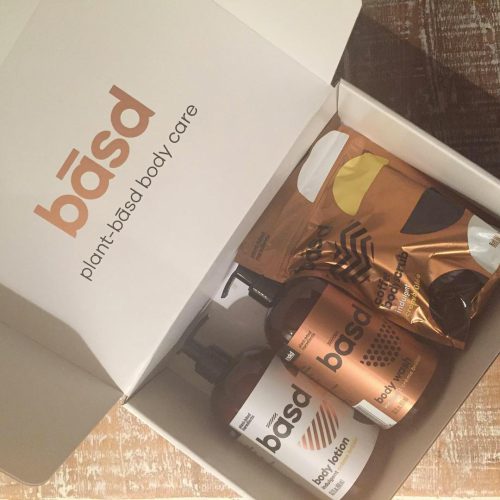 Here is what's available in the collection:
Body Wash – 450ml – $15.99 –  with a hydrating and refreshing formula that contains organic aloe vera juice to moisturize and tone the skin, calming organic green tea.  This body wash is creamy and moisturizing so it's perfect for the winter.
Body Lotion – 450ml – $24.99 – with a moisture-rich, silky-smooth and long lasting formula that contains organic virgin coconut oil and organic shea butter to soften the skin and reduce puffiness along with organic aloe vera juice and organic sunflower oil.  This body lotion is silky smooth and feels refreshing on your skin.
Coffee Body Scrub – 180g – $19.99 – with a skin improving formula that contains organic coffee grounds to reduce puffiness, sea salt for exfoliation and organic sweet almond oil and vitamin E to hydrate and leave skin glowing and feeling healthy.  I'm a huge believer in scrubbing with something that's not damaging to the environment, and coffee grounds fit that description.  
Available at select health food stores across Canada and online at basdbodycare.ca.