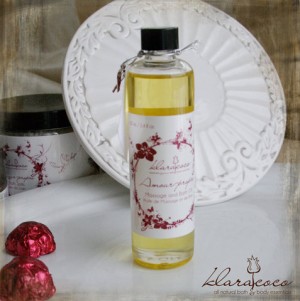 My new favourite bath and body product is bath oil!  Well, actually, it's one bath oil in particular.
I speak of the Amour-propre bath oil by Klaracoco, which is a Calgary-based apothecary company.  The products are indulgent and easy to use.  The Amour-propre bath oil is free of parabens and other artificial ingredients.  The oils are a blend of soy, sweet almond, and jojoba, and the scent base is from essential oils so you're getting a very pure product.
What I love about this oil is that it just sticks to the skin.  It's not overly slick or thin so it's easy to apply, and the blend of rose, neroli, and grapefruit oils is fresh, floral, and very feminine without being over powering.  The scent is beautiful and the product is luxurious in every way.
The best part is that the proceeds of the Amour-propre bath oil go to the Canadian Breast Cancer Association, which is a great cause. There's even a body butter, body lotion, bath salts, and bath truffles in the line as well, and all of them donate some proceeds to the same great cause.
You can check out Klaracoco's website to purchase.