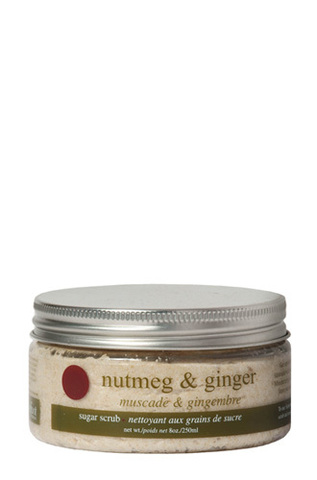 I'm already thinking about my end of year "best of" list, and on it is going to be Barefoot Venus.  Over the past month, I have totally fallen in love with their products and they have some wonderful bath and body products!
Barefoot Venus is a Canadian company and they make all natural products for the entire body.
I have used their sugar scrub in a Nutmeg and Ginger scent.
Barefoot Venus says:
"Surround yourself in warmth, spicy ginger and warm, woody nutmeg cloak your skin and senses in fragrant happiness.
Get smooth as white and brown sugar crystals, saturated with healing oils, gently buff roughness away. Moisturizing avocado oil and skin silkening coconut oil leave your skin in perfect birthday suit condition."
And you know what?
The description is an apt one of the Ginger and Nutmeg scent.  It almost reminds me of The Body Shop's Vanilla Spice body butter scent but it's better because you can get it all year round, and unlike The Body Shop, you can get the yummy scrub in a sugar formulation which is a little more intense than the Vanilla Spice creamy scrub that comes out every year.
The scent is indeed warm and reminds me of ginger cookies baking in the oven, but it's not overly sweet which makes the whole scrubbing experience so much more palatable.
What I also loved is that the scent left on your skin isn't super strong so you're not annoying people with it all day.  It's subtle and slowly disappears, having already given you pleasure.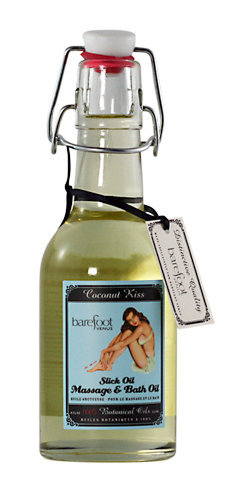 The brown sugar is an amazing exfoliator because it's strong but eventually melts into wet skin so that you're not over exfoliating.  The coconut oil moisturizes so that you don't need anything extra.  This took away a whole bunch of dry skin and I couldn't wait to use it all the time. At $20.99 it's a pricey product but it works so well that I feel like it's totally worth it.
I'm also loving Barefoot Venus Slick oil in Coconut Kiss ($19.99).
Check out the ingredients:
"Helianthus Annuus (Sunflower) Seed Oil, Canola Oil, Prunus Amygdalus Dulcis (Sweet Almond) Oil, Prunus Armeniaca (Apricot) Kernel Oil, Triticum Vulgare (Wheat) Germ Oil, Persea Gratissima (Avocado) Oil, Tocopherol (Vitamin E) and Fragrance."
That's right – it's all natural and it's a blend of oils so that you get a blend of benefits.
Trust me when I say that this is the nicest moisturizer that you could use.  I use it in the shower while my skin is still damp and then gently pat dry.  Moisture gets sealed in easily and I smell kind of like a coconut candy for a little bit.  So yummy yet totally subtle.  This comes in a large glass bottle that's cute in your shower or on your vanity.
If you want to replace your regular products with something that smells delicious and is really well formulated, then you absolutely have to check out this company.
You can get Barefoot Venus products from their website, or at spas across North America.