I love to entertain, and when it comes to getting my home ready for the holidays, it doesn't mean that I put up a bunch of cheesy Christmas decorations and sit back and relax.  I would rather do away with the decor, and make sure that my home is a place where friends can sit back and relax.  Here's how I'm making sure that happens: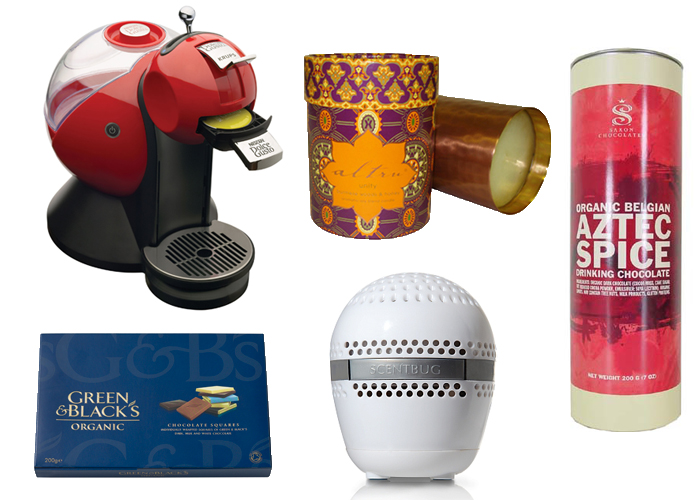 I'm using a Dolce Gusto to make coffee.  This is one of those machines that makes coffee out of a pod and it's a must around holiday time.  Using the machine is so easy that your kids could do it which means that you don't always have to be around to measure out the coffee.  It's especially great for entertaining because you can customize your guests' drinks and give each exactly what they'd like.  You can make yourself a really strong coffee by using an extra espresso pod, or you can get your guests a more milky coffee by using a latte pod.  At $200 it's worth the price since it will make your life easier.  You can get this from The Bay, Sears, Home Outfitters, or any store that carries products for the home.
I'm also lighting Altru Unity Soy Wax Candles throughout my home.  I love the scent of Burmese Woods and Honey and the proceeds from these candles go to In a Perfect World children's foundation.  Plus with a stylish copper cup, these candles will accent my decor instead of being an eyesore.
My bathroom is getting a Slatkin and Co. Scentbug from Bath and Body Works.  I love this little contraption better than the leading unsightly plug-in because I can fill it with Slatkin and Co. oils!  I personally love Japanese Cherry Blossom.  When turned on, the little Scentbug hums away and the tiny internal fan releases the oil's scent into the air.  It's much safer than burning the oil and you can put it in an area of the house where electrical outlets may not necessarily be available.
I'm serving up 2 different kinds of chocolate.  I like using Green and Black's Chocolates to make fondue and put in my chocolate dishes.  They also have these great mini chocolate squares that are perfect for setting out in a candy dish when you're entertaining.
When it comes time for dessert, Saxon Organic Dark Drinking chocolate is a must.  It goes with almost everything, and its rich enough to even serve on its own!  Instead of serving regular hot chocolate, there are exotic flavours such as Aztec Spice which has a hit of chili in the hot chocolate, or something normal yet fun such as Creme Brulee flavoured hot chocolate.  You can get these and other fantastic Saxon Chocolate products from The Shopping Channel.  The chocolates are made in Toronto, so you will be supporting a locally made product as well!
The bottom line is that you and your guests should have lots of fun, and by no means should you be running around trying to do everything.  Try to delegate responsibility and don't let things get out of hand – invite only those on the original guest list and stick to the planned menu!  The more you can account for and have planned in advance, the more fun and relaxed you'll be come time of the party.
If you have any tips for entertaining to share with me, I would love to hear them, so leave me a comment.