These are the products that we just keep on using because they're that great!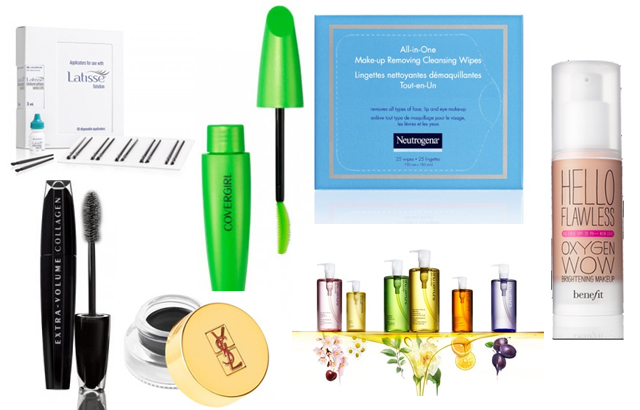 This was the year of BB Creams – and guess what? We finally found we like enough to use every single day, but that review's not up until later January. You can go through all our other BB Cream reviews here. Some of them were pretty good, but not as good as foundation and so that's what I mainly stuck with throughout the year.
My go-to foundation: Benefit's Hello Flawless Oxygen Wow foundation.  I knew it was good when people kept telling me how nice my skin was… it was the foundation, not my skin that looked amazing!  You know you've found your holy grail when…
Though I'm always on the lookout for the latest and greatest, unlike Cheryl, I've found my holy grail mascara and always have it on hand. It's L'Oreal's Extra Volume Collagen Lashes mascara which came out in 2009! I like mascara thick and luscious and this certainly does the job.
That said, I also love CoverGirl's new Clump Crusher mascara though I haven't been using it as long so I'm just not as used to reaching for that neon green tube.
Also, I tried Latisse this year and loved it! The only downside is that you have to keep using Latisse for the effects to last, but after using Latisse, I went to get lash extensions and the salon I went to thought I was in to get them removed… that's how long my lashes looked!
And while we're on the topic of eye makeup, I also have to mention my beloved YSL cream eyeliner which I use daily and absolutely love.
And then from makeup, we go on to taking it all off, and Shu Uemura's cleansing oils are the best. I mean, the absolute best. If you haven't tried a cleansing oil yet, let 2013 be the year you incorporate it into your routine!
Too tired for cleansing oil? Don't worry, so are we at least once a week, and so we keep cleansing cloths on hand – we are partial to Neutrogena's.
And though I love the cleansing oil and the wipes, I also love my Clairsonic Mia 2 which made me break out at first, but now keeps my skin super clear and really smooth.  I actually can tell the difference in my skin when I'm not using it!
Moving on to skin care…
In 2012 I became a fan of some high end skincare lines – Philosophy and Fresh really are the gold standard, people! Remember my post about their face care products? If you're on the lookout for a new regimen, this is the place to go. I still use their cleansers. I especially like Fresh's Advanced Therapy Lip Treatment and am never without it.
Also: L'Occitane hand cream and body butters – amazing for very dry weather.
In other news: this was a year of big changes for me.  I had a baby – so you'll see reviews of the odd baby product here and there, and I definitely won't have the time to blog as often as I'd like, but rest-assured I'll be keeping my eye out for the best of everything when I can.
What are your beauty all stars? Are any of them products that you found out about through the blog? Share in the comments!