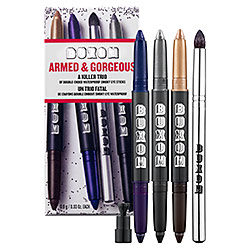 Buxom's Armed and Gorgeous gift set is probably one of my favourites ever. This gift set has 3 waterproof Smoky Eye Sticks, in coordinated colours.  These sticks are kind of like MAC's eye slicks that they come out with on special occasions, but are slightly better because they're more pigmented and come in colours that are more usable.  I really liked the black eyeliner because it's super rich and pigmented, and has a nice dark black matte finish.
I have found that these crease on me if I don't use them with a primer, but once I have a primer in place, they do stay on all day.  The set also comes with a sharpener and a brush, but I don't have much use for the brush.  The sharpener is excellent though because it lets you get the liners down to a fine tip so that you can actually use them on the lower rim or inner rim of the eye.
The colour sets are:
– Smokin' Pistol & Switchblade (smoky coal/ smoky metallic indigo)
– Two by Four & Torch (smoky black-brown/ smoky metallic brass)
– 5″ Stiletto & Slingshot (smoky plum/ smoky metallic chrome)
I use the "Smokin' Pistol" (it's black) the most, but I've found a good use for all of these in my makeup looks.  Because you get a lid colour and an eyeliner all in one, these are also awesome to travel with!
Pick them up at your local Sephora store for $36.