We realize that many of you are heading off for vacation soon, and so we thought we'd share some of our personal travel tips to make your journey easier! This week we cover what we like to pack – and what we leave at home. Today we cover perfect pocket-size products! If you have some travel tips to share, leave them in the comments!
by Kyle Gordon
To save on space and avoid hassles at the airport, take advantage of the endless array of mini products all under 100 mL: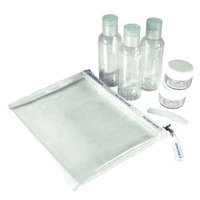 Hand sanitizer
Blotting clothes
Purse-size perfume (or samples of your favourites)
MAC's flight-approved bottles (load 'em up with body cream, sunscreen, shampoo, conditioner)
Match stick nail files from The Body Shop
Toothbrush, floss, toothpaste and mouthwash come in these adorable little kits at most drugstores
Wet-wipe nail polish removes
Q-tips. Tip: Apply makeup with these little wonders and cut down on the number of brushes you bring.