I love the idea behind Beautycontrol Countercontrol collection because it's meant to mattify the skin without drying it out.  As someone with oily skin, I find that the more I try to mattify my skin, the dryer it looks and sometimes it actually because more oily as a result.  My skin overcompensates for the intense dryness by actually producing more oil which is the opposite of what I want.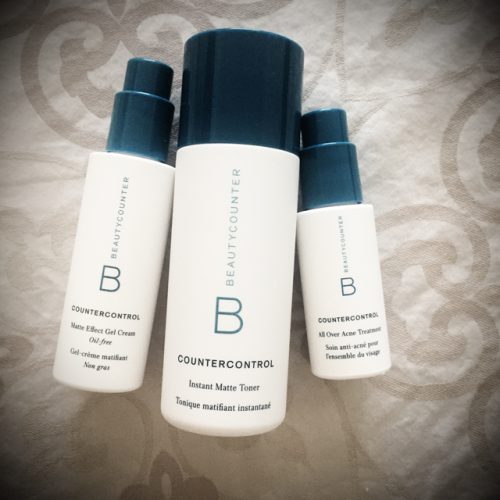 The three products I tried from the Countercontrol collection are the Instant Matte Toner ($36), the All Over Acne Treatment ($49), and the Matte Effect Gel Cream ($49).  Of these, I have to say that my favourite was the All Over Acne Treatment. With 2% Salicylic Acid, this treatment is the perfect way to keep skin matte and clear. Salicylic Acid goes inside pores to actually help counter oil production and keep the pore clean.  That's how it works to minimize breakouts and I find that it's the one product that's easy to add into my skincare regimen that makes a difference on oil production and on acne.
The toner was great for getting rid of residue on my skin but I find that if I'm going to go to the trouble of using a toner, then I want it to be something that will actually have active ingredients in it which will hydrate or peel my skin.  This toner has witch hazel and aloe juice which can be calming, but not what my skin needs. The Matte Effect Gel, unfortunately, wasn't matte enough for me so there was no point in me using it. It was hydrating, but I'd prefer a lotion if that's what my skin needs.  The Matte Effect Gel is actually a little shiny and it even made my makeup glowy. Also, for some reason, I felt like I was oily very soon after I used it, so I don't think that it even absorbed any oil or had an effect on how much oil my skin was producing.
I enjoyed using the toner, the All Over Acne Treatment, and then sunscreen on top as my go-to skincare regimen for the morning, and use retinol, as usual, for the night.
Beautycounter is sold through their website, or through Beautycounter representatives.