Let me start by saying that this mineral sunscreen is almost clear and I would use it on myself again.
I had a video review about this sunscreen… and then deleted by mistake. Oops. But here you go: if you want a mineral sunscreen, this is a great option, although you can only get it online.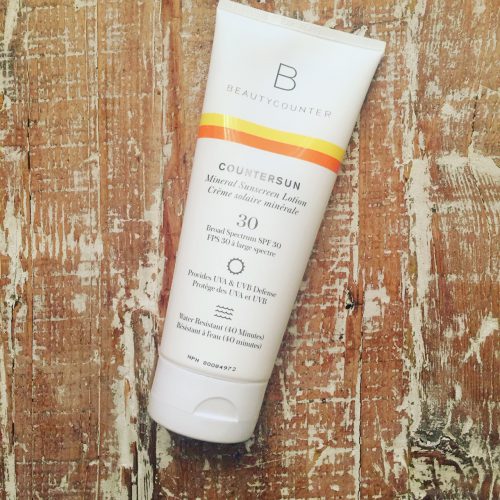 The main sunscreen ingredient is 19% Zinc Oxide which means that it's got lots of zinc oxide in it. That's great, but zinc oxide usually shows up super white on tan skins, and this one doesn't do that. Sure, there's a bit of a cast but not so much that it's bothersome to look at.
It's greasy so I don't like using it on my face, but I love using it on my body because it works like a moisturizer too. It's also water-resistant (probably because it's so greasy), so I took it with me for a day at the beach with my kids. I slathered them and myself with the sunscreen, and honestly, I was using so much that it was a little white on our skins but our photos from the beach look pretty good.
But, it's sticky.  Sand stuck to it non-stop and that was not fun.  It was hard to change our clothes after a day at the beach, and reapplying sticky sunscreen over top of sand and more sticky sunscreen was super annoying.  Just saying.  It would be great for a day on the patio, but maybe not for the beach.
Available online: $49.
More sunscreen reviews here.