I feel like I talk about retinol a lot, but if you're nursing or pregnant, or have very sensitive skin then retinol might not be for you. Luckily there's a retinol alternative called Bakuchiol, which is plant-derived and when used twice a day, has been shown to have anti-wrinkling effects similar to retinol. That's the active ingredient in Beautycounter's Countertime collection. Each item in the collection – the serum, soft cream, and day cream – has bakuchiol in it so that you can incorporate it into your skincare regimen in a variety of ways.
What I have is the Countertime Cleansing oil, the Serum and the Soft cream.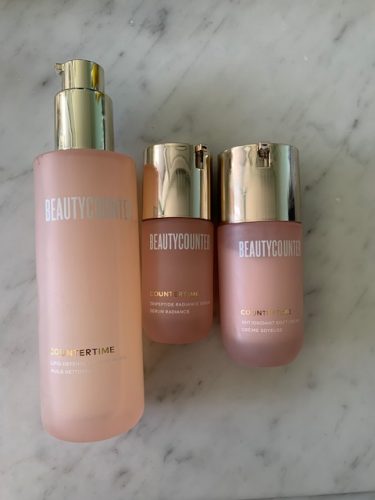 The Cleansing oil is great, but really not that different from other cleansing oils that I've used before.  If you've used other cleansing oils, then I don't know if you really need this one too.  What I do love is the heavy pink glass bottles that all the products are packaged in. They're not great for travel but they do look so pretty on the counter.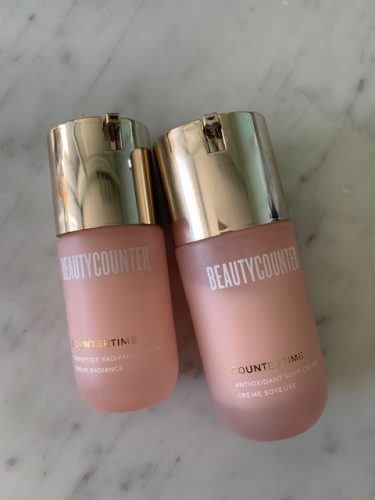 The radiance serum and the soft cream were really my favourites. The serum absorbs into your skin but it has a sheen to it so it really made my skin look glowy.  The cream is light and absorbed into my skin nicely too.  I used the serum during the day under makeup, and the cream was something that I enjoyed using at night time.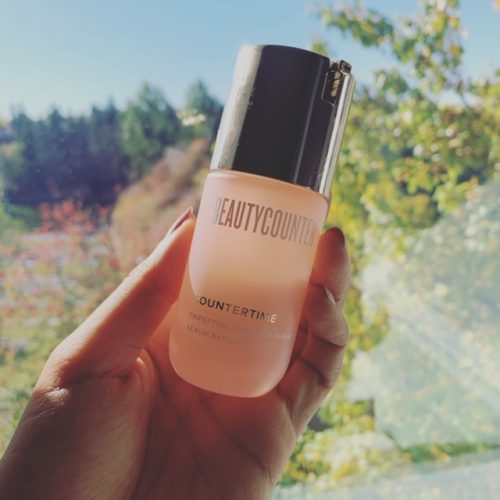 I'm done using the products now – I actually finished both the serum and the cream, but still have lots of the cleansing oil left.  Did I like it as much as I like retinol?  Maybe.  When my skin is sensitive and I need something gentle, then the Countertime collection is perfect, but if I really want to get rid of acne scarring then I need retinol for its cell turnover capabilities.  I'm not really too concerned about getting rid of wrinkles at this point, but I want smoother and clearer skin so I turn to retinol.  I did actually find that I could use both the serum and the day cream with my existing retinol.  I layered them on top like moisturizers and there's nothing in them that will prevent the retinol from working.
Beautycounter Countertime Lipid Defense Cleansing Oil – $49.
Beautycounter Countertime Antioxidant Soft Cream – $79.
Beautycounter Countertime Tripeptide Radiance Serum – $79.
Available online or through your Beautycounter representative.