I recommend some kind of oil to almost everyone I meet.
Ok, maybe it's because I live in a very dry climate and meet a lot of people with topical dryness, and maybe it's because my friends are of "an age" when they're starting to add retinol to their skincare regimen, but people ask me about dry skin and skin dullness a lot and that's what I recommend!
Oils nowadays have actual skincare ingredients in them – they're not just grease for your skin – and Beautycounter has some of the best options available.
I really am loving their brightening Vitamin C oil.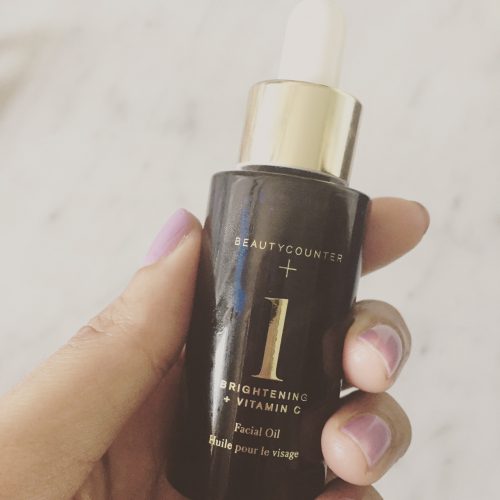 This oil is lightweight and absorbs into my skin in a matter of minutes.  I apply it as the last step in my skincare regimen, after any exfoliators or treatments.  It sinks in and adds some vitamin C which is a powerful antioxidant.  Antioxidants help prevent environmental damage and can be used morning and night.  So you could apply this in the AM as part of your routine, before sunscreen, or at night before you go to sleep.  Makeup will glide on and you'll have to powder if you want it to stay on.  But it works and I love it.
Pick up Beautycounter online, and check out their options for oils.  They function almost like serums but more hydrating which is nice.  Once the weather gets really cold, you'll really want to stock up because these are the best at getting rid of that tight feeling on your skin.
$68.