Self-tanning is the method of adding colour these days.  Every time I watch The Hills, I hear Stephanie Pratt mention something about her spray tan or her spray tanning machine, and it reminds me that even if you're in a warmer climate, you don't sit outside and bake in the sun.
But if you're self-tanning, then you need to make sure that you're taking care of your skin before-hand.  That means exfoliating and making sure that it's moisturized at all times.
There are tons of products out there that can help you do this, but I just got introduced to Get Fresh. Get Fresh is a spa bath and body line and it features tons of yummy-scented products. You can pick them up at many salons and spas and now that they're on my radar, I've been noticing them way more!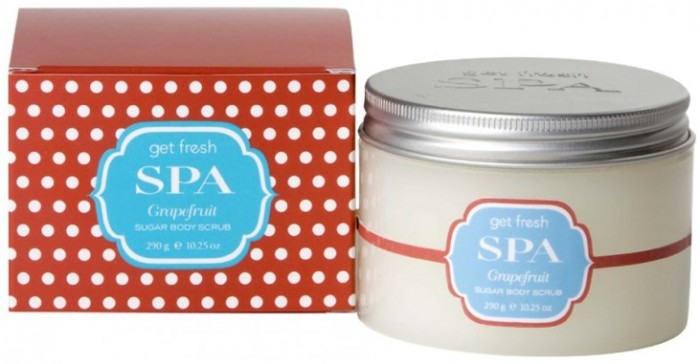 Their Sugar Body Scrub in the Grapefruit flavour is one of the best I've ever used, and ever since I had a professional body scrub done, I use it the way a spa would. I emulsify the scrub with some water in my hand, and then rub it on dry (not wet!) skin. The sugar does take longer to dissolve, but that means that you get more exfoliating, and the overall result is smoother skin than ever before. This particular scrub actually is soft enough for you to use it this way.
I did notice that using the scrub this way made it last a lot longer, and given that I was exfoliating a couple of times a week, I was able to make this scrub last for about a month!
The scrub retails for $23 and you can also get a body butter in the same Grapefruit scent if you want to layer them.  Order online through their website or use their store locator to find a retail location near you.