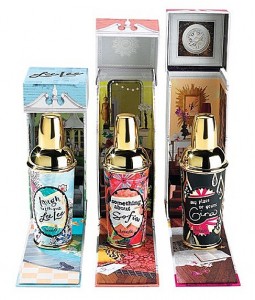 Throwback to the Benefit Crescent Row perfume collection which was a lovely collection that launched in 2009 but is now discontinued.  I loved it and you might be able to find it at second-hand perfume retailers.
No matter how hard I try to break out of my heady, musky, incense-y fragrance craze, I just can't seem to enjoy a nice light scent, no matter what time of year. Yes, I'm an oriental fragrance lover, and there's no oriental scent that I don't like.
My most recent favourite scent is actually a whole collection. I'm talking about Benefit's new line of pretty scents called Crescent Row. All the scents have light, fruity or floral openings but they are all oriental in their dry-downs.
The scents are called Sofia, Lee Lee, and Gina. Sofia is my favourite and has strong top notes of mango – so real that you can almost taste it – but the dry-down is a mixture of musk and vanilla on me.
Lee Lee has notes of cassis, melon, and citrus, and the drydown is a woody amber and santal.
Finally there's Gina, which I thought I loved on first sniff, but it turns out that the drydown isn't something I love. It has top notes of peony and white lily, and base notes of patchouli and tonka bean.
Although all of these are eau de toilettes, they are quite strong, and one spritz is often enough. Because of the oriental bottom notes, the scents are long-lasting and can make it through a summer day without wearing out. They are actually remarkable in their longevity and are surprisingly sophisticated scent offerings considering that Benefit has more of a "fun" aesthetic when it comes to fragrances.
The packaging of the scents is to die for, and I have them all lined up on my vanity. The bottle is a gold one with colourful overlay denoting the scent's name. They look so pretty, and my only complaint is that the overlay is a sticker that can come off if you're not careful. Nevertheless, these are truly pretty possessions and house fantastic scents to boot!