Benefit Benetint… it's one of those products that we know we're never going to be without in this world.
I've never really found a tint that I could use on a regular basis.
Until now!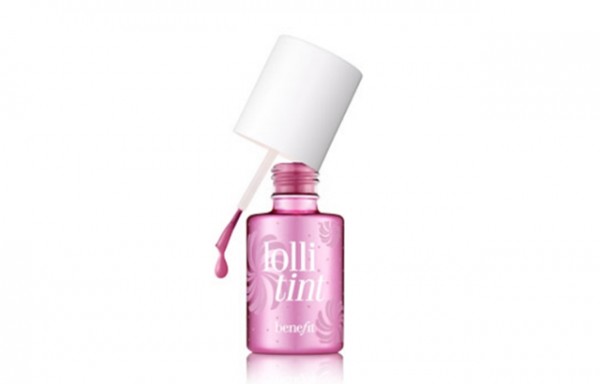 Lollitint is perfect for us medium-toned gals.  It is a perfect lavender/pink in a medium tone and very pigmented. Because it's so pigmented it works on lips and cheeks.  In the past, I've found that some of the Benefit tints didn't show up on my lips because they're already so pigmented, but this one is different.  It's tint is very much a deep stain (deeper than it first seems).
And that leads me to how you need to apply this.  At first when I tried Lollitint I dabbed a little on each cheek and then went in to blend.  That didn't work so well because the area that I had first dabbed with the tint had a darker stain than the rest of my cheek.  This was impossible to blend and I ended up having to wash it off.
If you're applying this on your cheeks, I suggest putting some on your ring finger and then blending it into the apples of your cheek in a circular motion.  Do each cheek, and then dab on to lips in a patting motion.  It's best to apply using your fingers because that will give you the most control over where the pigment "sets" because once it sets, it's difficult to really get it to move… which is what we want from this anyway!
The consistency of Lollitint is pretty thin and slightly watery, but it's thick enough that one can still work with it.  There is clearly alcohol in the formula, and you need to be aware of that if you have sensitive skin: this may be drying and irritating to it.
The Benefit tints are best applied to bare skin, so these work well if you're having a day (or year) of wearing no foundation. They also work well as a base for a regular blush and can add depth to the cheek area.  Apply to bare lips and top with a clear or coloured gloss.  The colour is slightly deeper on the lips – the stain just seems to sink in and warm up, and the final look is actually super pretty.
I love a coordinating lip and cheek look (and 2014 is going to be ALL about that) and if you haven't been able to wear Benetint in the past, then you may like this.
Pick it up at the Benefit counter: $40.