These days, I'm a Benefit girl.  I can't help it: as much as I usually end up using a plethora of products from various brands, my quick makeup routine is now made up of a few key products from Benefit because they're cream-based and are easy to use.  You don't need special brushes or anything fancy to make these products work for you.  Just dab them on, blend with your fingers, and you're good to go!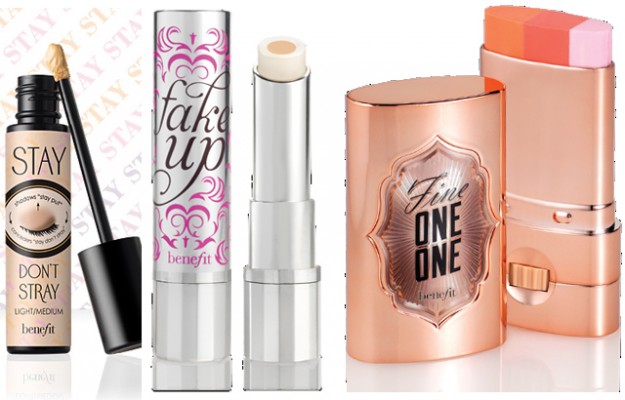 First up: I use their Stray Don't Stray Concealer and Eyeshadow Base ($30) because it now comes in a new shade that's perfect for me.  The Medium/Deep actually works more like a nude eyeshadow for my eye and makes by black eyeliner really pop.  I don't put on eye makeup unless I'm using this!
Second: I use their brand new concealer, FakeUp ($29).  It's a moisturizer and concealer in one, so it goes on super smooth and is very easy to blend.  If you're looking for complete full coverage, though, don't turn to this one because the moisturizer sheers our the concealer a bit.  I'm good with it though: the look I get when I use it is natural but polished.  Also, it doesn't settle into fine lines and stays put for the entire day, so it's definitely a keeper!
Finally: Fine-One-One ($36), Benefits latest blush and highlighter in one is my go-to cream blush.  I haven't used cream blush in years, but I couldn't help but use this one because it just makes my cheekbones pop.  I do wish that Benefit had made this in two colours: one with a pink highlighter and one with gold.  As much as I appreciate that the pale pink is super sheer, it's just not the best for highlighting my skin-tone.  Instead, I just blend all the colours together and use this as a shimmery blush and it seems to work well.
I finish the look with black gel liner, and lots of mascara.  Lip balm seems to be my lippie of choice these days and I'm happy to say that the whole look doesn't take me more than 10 minutes to do but still looks polished.