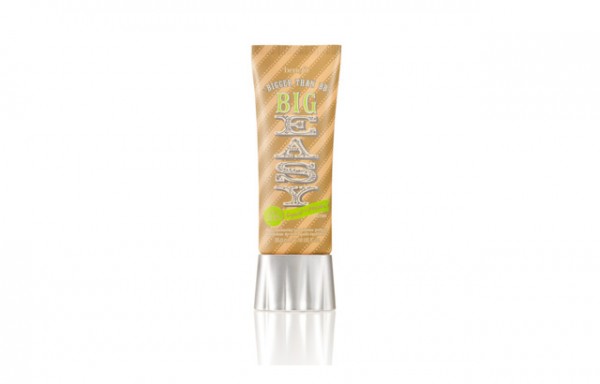 Imagine if someone took your favourite primer, added a hefty dose of tint to it, and formulated it with SPF 35. What you'd end up with is Benefit's The Big Easy Liquid to Powder SPF 35 Foundation.
This is a dimethicone-based foundation that has light coverage and goes on like a primer. It does have a powdery finish that doesn't need to be set before you add blush or bronzer on top. The foundation lasted all day on my combination skin – and looked flawless even after a workout (although my eye makeup was a little worst for wear that day).
The only downside to this foundation is that it only comes in six shades and they are all either peachy or orange. I'm a medium skin tone and I use the darkest colour, deep beige – which is slightly orange, and not deep nor beige.
I was ready to hate the orange-tone, but for some reason it really works with my skin-tone and just makes me look well-rested and bright. I always get compliments the day I wear Benefit foundations and so I keep using them even though they're not usually an exact match on my skin.
Because this is SPF 35, you are likely to get lots of flashback when you wear this, and so I would avoid it on days that you're going to be photographed. For daily wear, this is a winner, if the colour and texture work for you. Although I did get many compliments on my skin when I wore this, when I looked closely at my skin in the mirror, I felt that The Big Easy looked a little mask-like. This was undoubtedly due to the heavy silicones in the formula and the fact that it wasn't an exact match to my skin and so you could see where I hadn't applied it (like on my eyelids). Keep that in mind when you're choosing.
$46 where Benefit products are sold, including Shoppers Drug Mart.