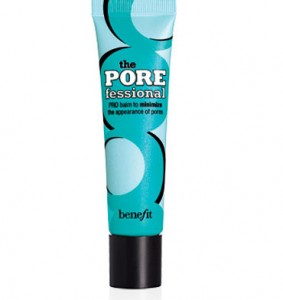 Today was a properly hot day in Calgary which was nice because for the past few months we've had nothing but rain and hail.  It was the perfect day to try The POREfessional by Benefit.  It's a Pro blam that they say reduces the look of pores and works as a primer and a touch up product that you can use throughout the day.
The POREfessional is oil-free and has a mixture of silicones in it to give you that silky smooth feel and finish.  I used it under my makeup as directed and it did indeed give me a poreless look that I can't always achieve with makeup alone.
However, I did find that my makeup got very oily as the day wore on and I wasn't a fan of that.  A normal primer usually keeps my makeup on longer and the way that it does that is by absorbing some oil throughout the day.  This doesn't do that, which is a real shame, because that's what I need for the summer.
I have tried this product on days that aren't as warm, and it works pretty well.  I have oily skin so it's not able to block the oil even on a cool day, but if you have normal skin then this would be a good primer for you.  It does have a thick balm-like texture and is moisturizing so that is nice to have on a daily basis.
This is available at all Benefit counters for $34.