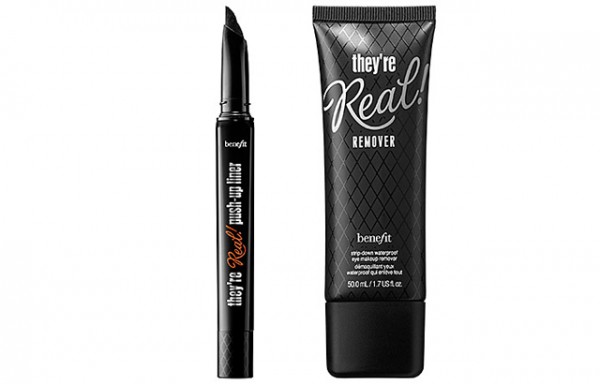 This eyeliner is truly groundbreaking – you have to see it to believe it.
I adore Benefit cosmetics. Their products are always ground-breaking and unique.
Benefit's They're Real Push Eyeliner is amazing because it gives you the lovely fluidity of a gel eyeliner, but in a convenient pen formula.
The tip is a very fine silicone dispenser that lets out a smidge of gel eyeliner at the twist of the base. Because the dispenser is made of silicone, it's bendy and flexible and lets you line your lids easily.
Thankfully, there's no eyeliner brush involved in this situation, so you don't have to wash your brush all the time to get a nice perfect line every day. The super thin brush also makes it really easy to get into the lash line for tight-lining, and that's where the push-up name comes in.
There's also a They're Real! Remover, which is totally needed, because this liner really does stay on. I found that it doesn't even come off with my regular foaming face wash, and so I take off whatever's left over with this remover. The remover is as unique as the eyeliner. It's a cream that turns into a serum when you rub it into the skin. I like putting it on a cotton pad, and gently pat on the eyeliner to soften it, before swiping it off with the other side of the cotton pad. You can also rub it in with your fingers and then wash it off with a foaming cleanser.
Pick up the eyeliner ($29) and the remover ($22) at Sephora stores now.