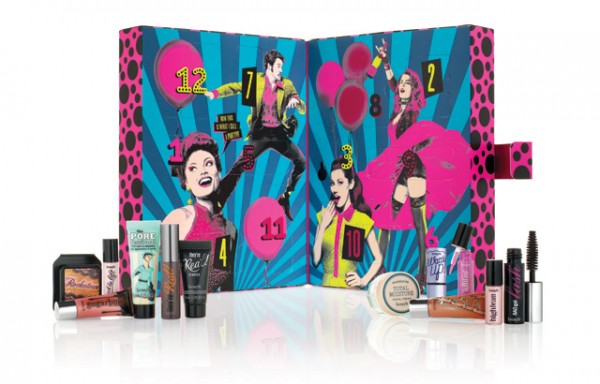 If you're going to get your hands on an Advent Calendar this year, get a makeup one.  It's one that even people who don't like chocolate enjoy and there's always something for everyone – usually men find something they love too.
Benefit's Party Poppers gift set offers 12 days of presents and is perfect for the makeup lover in your life, because it has only one skincare item packaged.
The gift has the following:
the POREfessional mini | 7.5mL
•they're real! mascara mini
•rockateur mini
•high beam mini | 2.5mL
•lollitint mini | 2.5mL
•watt's up! mini
•ooh la lift mini
•BADgal lash mini
•total moisture facial cream mini
•they're real! remover mini
•ultra plush lip gloss mini in hoola
•ultra plush lip gloss mini in sugarbomb
Like all holiday sets, it's perfect for trying out some new products and seeing whether they work for you.   The bright colours of this packaging and the many lip glosses that come in it make it perfect for a younger group of girls – so keep that in mind if you choose to gift it.
This set is $58 and exclusively at Sephora stores – get it while it lasts, because Advent calendars usually sell out very quickly.