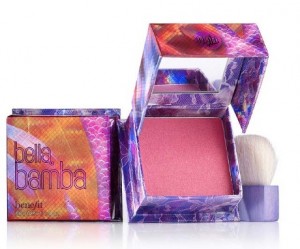 Benefit's newest blush has us turning pink!  The newest box blush from the brand is called Bella Bamba, and it's a lovely hot pink shade with shimmer in it.  For us tan girls, it's just what the doctor ordered.  I could get this colour to show up on my cheeks, and I liked the subtle shimmer in it.  Dandelion and Coralista were too light for me, but this is just right.  Because of the shimmer, I don't think I'm going to be using it everyday, but it's going to be my go-to product for nights out.
For some reason, I really like the brush included with this box.  I usually hate the brush, but this time I found that it let me pick up just the right amount of pigment, and smooth it on really easily.
Bella Bamba is available at Holt Renfrew, Sephora, and wherever else you can find Benefit products.  It retails for $36.