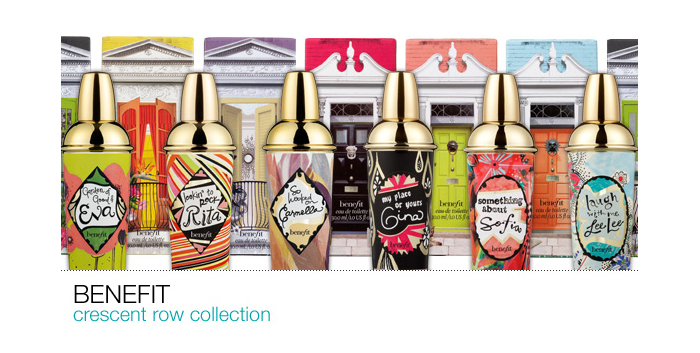 One of my favourite perfume collections is Benefit's Crescent Row. The perfumes are long-lasting and interesting, and they come in the best packaging! Trendy gold bottles that are small enough to take anywhere.
Now, Benefit has 3 new members to the collection – Eva, Rita, and Carmella, and each brings something different to the mix.
Each one has it's own longer title that gives a hint of what the perfume smells like. Eva is "The Garden of Good and Eva" which of course means that it's a floral perfume. The top notes are a little fruity – watermelon is definitely there, but the drydown is a mix of woods and flowers. Rosebud, Jasmine, and Freesia keep the scent fresh, while Sandalwood, Cedarwood, and Musk bring something earthy to the mix.
Then there's "Lookin to Rock Rita" which is a more free-spirited blend. There's coconut in the top note that I could smell immediately. It's not pina colada sweet though, which is a relief and is more dry and real. There are floral middle notes, hyacinth, violet and freesia, and sandalwood and vanilla in the drydown. Surprisingly this one is my favourite scent. It's summery but different. I like the sandalwood and the vanilla because it really warms up the fragrance, and even though the whole scent has vanilla and coconut in it, it's not a sweet gourmand like one might think.
Finally, there's "So Hooked on Carmella" which is definitely a sweet gourmand, mostly because of the amber mixed with vanilla in the drydown. The lemon and grapefruit opening notes are hardly there, and then all I could smell was the tons of vanilla in this. I still found this to be a pretty scent, but just not my style.
Overall, these are definitely different from the original 3 that were in Crescent Row, because they were more feminine and almost instant classics, whereas these are more fun and girly. They're still different from anything else I've smelled in a while, and refreshing additions to my fragrance wardrobe, especially Rita!
They are now available at Sephora, Shoppers, Murale, and select Holt locations. Each one retails for $42 for 30 mL.