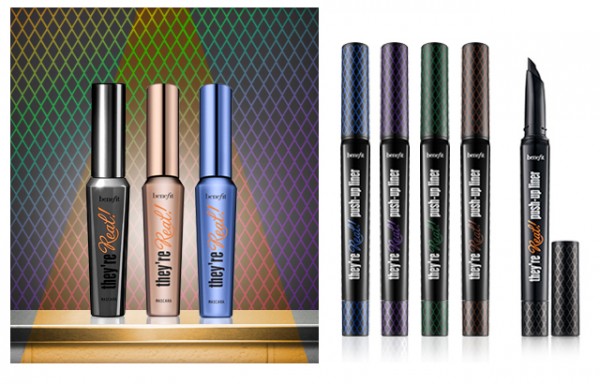 So I'm a huge fan of Benefit's They're Real Mascara, and They're Real Push-up Liner, despite hearing/reading somewhere that the Push-Up Liner is one of their most-returned products because people don't get it.
I get it – nothing could be more convenient than having gel liner that comes with it's own applicator, but liquid/gel liner is a stretch for a lot of people and if you can't get it on fleek right from the get go then that can be frustrating.  It's ok.
I have tell you about the new shades though.
#TrendingAtSephora right now is bright pops of colour on the lids, and these will help you with that – trust me, even if you love a neutral eye like I do, once you see that this trend is everywhere you'll be able to add a bit of colour to your look too.
The They're Real Mascara now comes in brown and blue – these aren't subtle shades.  The brown is a semi-sweet chocolate brown (not a deep dark espresso) and the blue is almost a royal blue (not a midnight blue).  When you wear these, you can tell that there's coloured mascara on your lashes.
The They're Real Push Up Liner now comes in Green, Purple, Blue, and Brown, and the brown is deeper and darker and perfect with the mascara, while the other colours are brightly pigmented but wearable.
I do find that the brightly coloured eyeliners don't go on as smoothly as the brown and the black – the formula is thinner making it important to pay attention to keeping a consistent pressure on the eyeliner brush.  The brown and black, however, are fool-proof and so easy to wear. They really make getting that end flick easy to do because the brush is already shaped that way and has a natural bendiness that comes in handy as you're finishing the liner.
The best part: the liners are absolutely long-wearing.  When I swatched them on my hand, I had a hard time removing them with just soap and water and absolutely had to use something really greasy to get them off.  That's a good thing, because it meant that they stayed put on my eyes.  You may want to invest in the They're Real Remover because it really does the job, but a true eye makeup remover will also work.  Wipes won't cut it – you'll likely be rubbing your eye too much and you don't want to do that.  The creaminess of the They're Real Remover is just right because it doesn't pull the delicate eye area too much.
The colours go really well over neutral eyeshadow making the pop of colour subtle enough – the mascara might be too much if you're trying to stay natural, but it's nice for weekends or added just to the tips of lashes.
Pick up both at Sephora – $31 each.