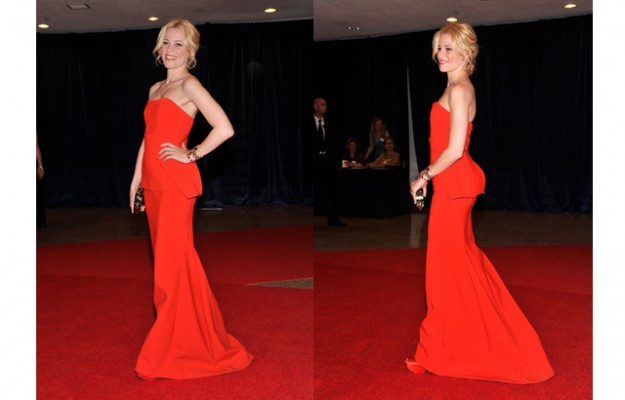 There definitely aren't usually this many celebrities at the White House Correspondent's Dinner! There definitely isn't a best-dressed list for this event, because there aren't enough well-dressed people attending. I know we're all wondering where the celebs came from and why they're there… I mean, what does Kim Kardashian have to do with the White House or politics for that matter, but it turns out that her mother and she were invited by actual media to attend as guests, and that might be the case with other Hollywood attendees.
Anyway, the best-dressed?
I pick Elizabeth Banks. I love that her dress was a change-up on the peplum, and it added a little bit of volume to her backside, which actually looked great because she's so toned all over anyway.
The red was very old-hollywood glamour, and the casual up-do just pulled everything together.
Take a closer look at the peplum.