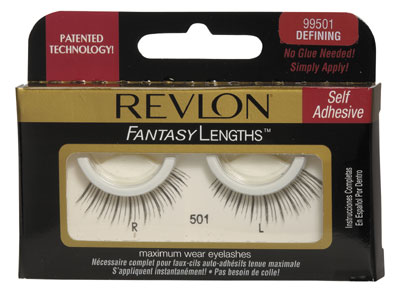 If there ever was an amazing drugstore buy, it's this.  Revlon Fantasy Length Self Adhesive eyelashes.
This is the perfect buy if you're new to wearing eyelashes like me.  I have worn fake eyelashes before, but they had always been applied by a professional makeup artist, so I never had to learn to apply them myself.  The one time that I tried was a total bust because the glue went all over the place.
Then I tried these.  The band holding the lashes together is already sticky so there's no glue needed.  You just place and hold in place for the lashes to adhere to your lids.  You can even move the lashes around if you make a mistake, which makes it especially good for new users.  It took me a couple of tries to get the lashes where I wanted them, but the end result was so worth it.
After a couple of wears of the self adhesive lashes, I tried using glue with them.  Now that I had experience placing the lashes, it was easier for me to use the glue and I found that by the end of a weekend, I could place the lashes in one shot and they looked AMAZING.
I highly recommend these lashes – they're not very expensive and are worth experimenting with before you spend more money on Shu Uemura lashes.  I used Shu Uemura glue with these and it worked really well.  You put the lashes on your lid while the glue is wet and let it set.
If you want to ask for tips or have tips to share on wearing false lashes, leave comments!