I caught most of the Emmy's last night and even though there was no red carpet, there was plenty of sartorial flair. But I thought I would show these timeless looks from 2009.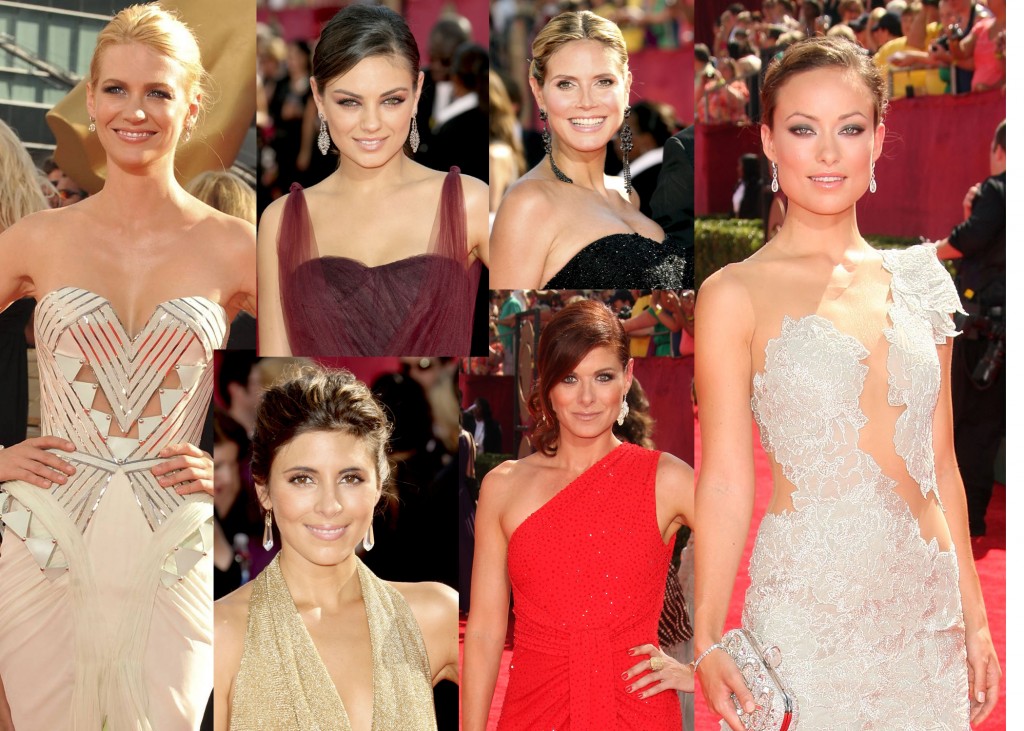 What do these makeup looks have in common?
Take a look at the lips and then the eyes.  The lips are a pinky nude colour, and the eyes are devoid of any eyeshadow.  Yet, the face is anything but washed out and all the stars look pretty?
The secret seems to be lining the eyes with a black liner to make them stand out more, and having long lush lashes that veer to the spiky side.  This draws the focus to one area of the face by highlighting it ever so slightly!
Depth in the face is also key.  Yes, these ladies are all beautiful, but check out Debra Messing (in the red): she's sporting bronzer so that her cheekbones stand out a little more.  With a bright dress like hers, bronzer is a good alternative to a pink blush (which might clash with the dress).
And while we're on the topic of sameness, another trend seems to be dangly sparkly earrings which are pretty but don't add too much to the entire look.
I loved Olivia Wilde's look the most (far right).  She's wearing a sheer wash of navy eyeshadow on the lids so it's like a smoky eye but dramatically muted. The addition of the shadow makes her entire eye area look larger than it is but doesn't add much to the overall look.  Going bare on the eyes is great, but all these ladies must be wearing a neutral or gold shimmery shadows on the inside corner of their eyes to make them look wide awake, and that's probably the only thing that I would do if I were sporting this look.
It seems like you can do nude lips and eyes without looking like you need a vacation and this is something that I'm going to try – what do you think?  Did you have any favourites from the Emmys?