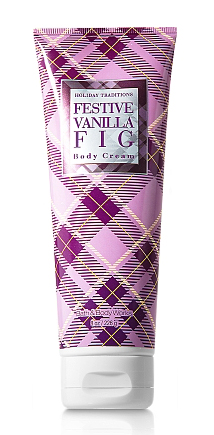 Ok here it is; I am going to go out on a limb and declare my favourite holiday scent this season.  It is by far, Bath and Body Works' Festive Vanilla Fig.  I have it in a body cream, and I cannot stop using it!
Don't think of this as a traditional vanilla scent.  I found that it is sweet only on its opening notes and after that, it's rather on the perfumy side which is something that I really like.
Throughout wearing this cream, I found that I could smell the fig, but there was something else more floral as I wore this cream.  There's a hint of rum, but other than that, there aren't really any strong top notes to this cream.
It's perfect to wear everyday because the main scent really does dry down quickly, yet I get whiffs of it as my day goes on.  The first day that I wore it, I had forgotten that I used this cream, and kept wondering what smelled so good!  The next day I realized that it was the cream, and the reason I had such a hard time identifying it was because it smells kind of sweet out of the bottle but that's not what you smell on yourself for the rest of the day.
Get this at your local Bath and Body Works; also available as a shower gel, body mist, and body lotion.  Enjoy!