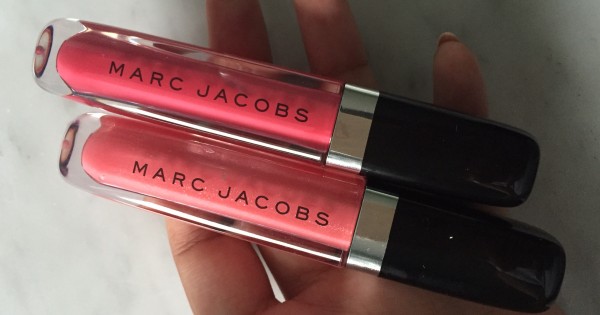 Ok, this is the best lipgloss ever – so much so that I want it in a bunch more colours.  It's the Marc Jacobs Enamored Hi-Shine Lip Lacquer.
As the name suggests, this is meant to impart lots of shine to the lips and it does exactly that.  But the gloss isn't at all sticky or tacky.  Instead, it has a gel-like formula that coats the lips and just feels slick and moisturizing.  It's not an oil-based gloss like some moisturizing glosses are, but instead it just sticks to the lips and lasts and lasts.
I've never used a gloss like this one before, and it's amazing how great and unique the formula is.
The gloss even seems to fill in lip lines so that your lips look nice and plump but without the use of any irritating tingling or actual plumping.
The darker colours are definitely more pigmented than the lighter/nude colours – the exception seems to be the colour Moon Glow which is a milky nude pink.
I have 328 Some Girls which is a pretty pink shimmer.  Even the shimmer is subtle and easy to wear – it makes the lips look luscious.
330 Hey You is a pink cherry jelly that's an easy punch of colour.
$34 each at Sephora and nicer than any lip gloss out there – I wish they had some nude colours that were super pigmented, but I'll have to wait.