Styling curly hair can be a challenge, but it doesn't have to be. Using the right products can help, and you can get shiny healthy-looking hair easily! I've grown up with curly hair and here are some of my favourite products for styling it: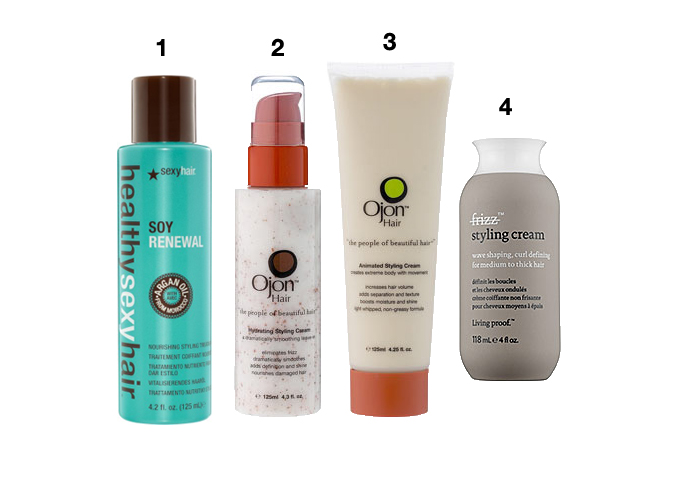 1. Soy Renewal by Healthy Sexy Hair. I didn't jump on the Moroccan Oil trend earlier this year, but this hair serum is my absolute favourite and it has some Moroccan oil in it. I love it because it doesn't say it'll do more than it will, but is better than your average serum. The Soy Renewal makes your hair easier to handle, frizz free, and lustrous without being oily.  This brand is available only at salons.
2. Ojon Hydrating Styling Cream. You all know that I love Ojon products, and I wanted to try their styling cream because it has beads of Ojon oil in it.  The cream was good but I still needed to use a serum with it or else my hair was still too dry.  With the serum though, I had great results when I used this cream, and it worked especially well before heat styling!  I love that I'm getting a dose of Ojon oil into my hair too!
3. Ojon Animated Styling Cream. Bar none, the best styling product I've used for some time.  This is a slightly tacky cream that leave your style in place but your hair super-shiny!  I loved loved loved using this cream, and have been using it daily since trying it out!  My curls stay the way I set them but they don't feel dry or crunchy.  Also, I use this after putting the serum in my hair and a pea-sized amount goes a long way, so I'll have this for a long time.  A winner!
4. Living Proof Curl Defining No Frizz Styling Cream. I had heard so much about Living Proof No Frizz products, that I almost didn't want to like this cream because I thought that it would be too good to be true.  However, this styling cream is a winner for curly hair.  Again, it left my hair the way that I set it, but the down side was that my hair was extremely crunchy when I used this cream and it wasn't as shiny as I would like either.  While this isn't my favourite product to use, I'll admit that it works well without a serum, so if you're looking to cut down on the number of products that you use, this might be good for you!