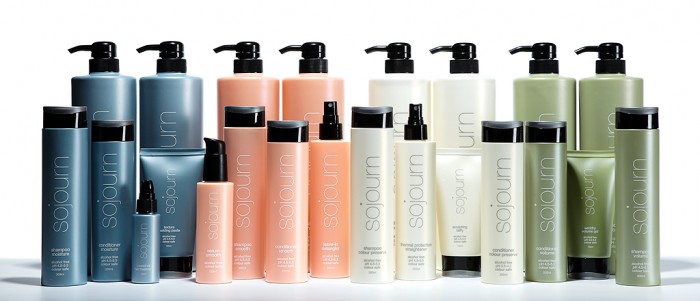 Realizing that to a certain degree products have the ability to penetrate our skins, I'm always interested in beauty lines that are natural and good for the environment.
My latest find is Elan Sassoon's new haircare line, Sojourn.  Sojourn is 100% Biodegradable and has net zero carbon emissions.  But wait.  The products are actually amazing for your hair too.
Elan Sassoon is the son of legendary hair stylist Vidal Sassoon.  But where his father stopped from creating products for the consumer, is where Elan picks up.
Elan was committed to creating products that filled a niche in the industry.  That was, styling products that worked for the hair, but were good for it too.  And he wanted every single product to be amazing without compromising on any front.
So Sojourn was born.
Every product in the Sojourn line has a pH of 4.5 to 5.5 which means that it's great for colour treated hair, since if the product has a high pH, it can cause the cuticle to open and let hair colour out.  Plus, all the products are UV protection, no sulfates, no formaldehydes, no denatured alcohol (100 percent alcohol free), no parabens, no salt and no artificial color or dye.  And despite all that, they smell really good too!
I've used the Colour Preserve Shampoo and Conditioner which are amazing because they're moisturizing but light so that my hair looks shiny – as if it was just coloured.
I also used the Serum Smooth which leaves my hair shiny but light and silky.
I'm sticking with the products – they perform, and I like knowing that they're so well-formulated too.
Of course, these are all sold in salons, and at the time I wrote this, Sojourn's website wasn't working so I'm not sure where you can get them in Canada.  You can find them on amazon.com.