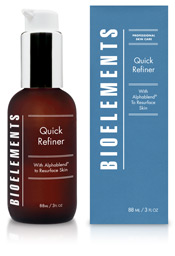 I have a thing for skincare products that have chemical exfoliants in them. These are different from the gritty manual exfoliants that you might use in the shower. They use ingredients that help your skin get rid of old skincells without doing anything to really harm the skin.
Bioelements Quick Refiner only has 5% AHA, but it's extremely effective because the AHA is in a light gel formula with no other ingredients to interfere with the AHA. I've found this to be quick acting and extremely effective. After two weeks of nightly use, major dark spots have faded, and my skin just looks more even-toned and fresh.
This is a exfoliant that is recommended for all skin types, and my feeling is that because it's 5%, it will be gentle enough to work on lots of different kinds of skin. I have very oily skin, and I knew that I wouldn't have a problem with it, but I was also surprised by how well it worked for me.
Bioelements is only available at spas, so check their website to order online or to find a spa near you that sells it.