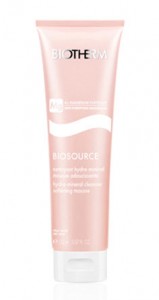 My favourite cleansers can do more than one thing at once, and help me multitask.
That's why I like the Biosource Cleansing Softening Mousse for dry skin by Biotherm.  This cleanser has a kaolin base, so that it gently absorbs oil.  The cleanser still foams so it's adept at removing traces of makeup, but you're left with matte skin without using a harsh soap on your face.  It's especially great for using in the morning so that your face doesn't get as oily during the day thanks to the kaolin that was in the cleanser.
Available for $20, a tiny bit goes a long way and if you really want to reap the benefits of the kaolin, leave the cleanser on your skin for a little bit before you start rubbing it away.