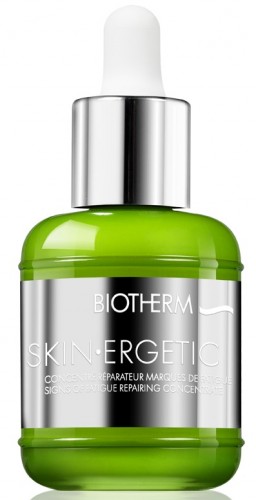 I have to say that I am a serum girl. Serums give you all the moisture without any of the greasiness, and they usually have a higher concentration of active ingredients than the skin creams that are a part of their lines.
For the past few weeks, I have been using Biotherm Skin Ergetic Serum.
I was intrigued because it promises to make skin look more radiant, and I feel like in the middle of winter, that's just what I'm looking for.
Biotherm says that this is "an innovative and potent serum harnessing an unprecedented level of fresh sulforaphane derived from the broccoli extract. Activated at the use, SKIN.ERGETIC serum blends the ultra-concentrated broccoli extract with superior anti-fatigue ingredients in a formulation that is 99% natural; paraben, mineral oil and artificial colour free.
This fresh technology makes it possible to add the active ingredient to the serum formula at the very last minute so that it offers maximum effectiveness for three months."
They go on to say that "Skin•Ergetic Serum promotes the skins production of antioxidants, stimulating its self-repairing system. This internal immune system reinforces skin so it can better fight off external aggressions."
I don't know how good broccoli extract is for my skin or how much of it is in the product, but I must say that I did like using this serum.
It's formula is almost like a watered down cream moisturizer. It's not watery as some serums are, and not filled with dimethicone either. Instead, this provides quick moisturizer, and glow to the skin, and absorbs within minutes. I love the way that makeup goes on on top of this. It's almost as good as applying foundation on bare skin.
Overall, I like how my skin looks when I use this, and I like the moisturizing that it provides.
Unfortunately, none of the Skin Ergetic products have any SPF in them, so you do need to apply something on top of this serum for it to really be good to use during the day.
Available at your local drugstore for $58.