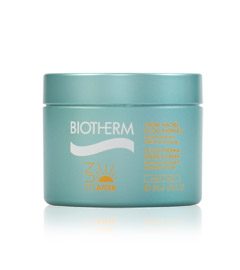 Every summer, shimmery lotions are kind of my thing. Whether in the forms of oils or creams, drugstore or department store, tinted or non, this is one product that everyone should have on the counter to add some depth and definition to their arms and legs in the summer.
It's barely hot enough here in Calgary to really have the chance to show anything off, but we take any opportunity that we can get.
To that end, I've been using Biotherm Sparkle Cream (which is part of their sun collection) on a daily basis to moisturize and add some shimmer to my skin. Unlike some of the other products out there, this one isn't tinted, and has a subtle shimmer to it rather than lots of shine. The shimmer is pearlescent and sparkly so you can notice it but only under bright lights.
The cream is super light and feels almost like a gel going on. It absorbs into the skin very quickly leaving the skin dry to the touch which is key, because there's nothing worse than being sticky and greasy with moisturizer in the summer.
You can pick up Biotherm products at your local Biotherm counter and this cream retails for $35.