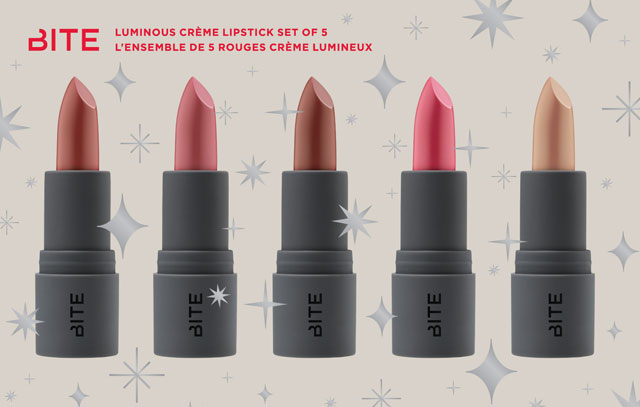 I love the concept behind this line of products – food grade pigment that makes the products safe enough to eat. Not that you're going to eat them, but isn't it nice knowing that the lipstick and lipgloss you're inadvertently ingesting aren't going to be harmful to you? Bite lipsticks are also packed with Resveratol which is an antioxidant that helps combat fine lines and wrinkles, so that means that this lipstick has the ability to work like the best skincare.
This holiday season is a great time to try out some of the lovely colours by Bite. Their Luminous Crème Lipstick Set of 5 includes 5 mini lipsticks in a range of shades. The shades are: Shiraz (soft plum), Fig (nude rose), Pepper (dusty rose), Bouquet (soft pink), and Champagne (pearly nude). My favourite are the Fig and Pepper as they look like my own lips but better. The Bouquet goes well with a pink blush, and the Champagne is great for layering. Plus because these are so tiny, they will fit into the tiniest of clutches which makes them a must for the holiday season.
Check out Bite at Sephora, and pick up this lipstick set for $28.