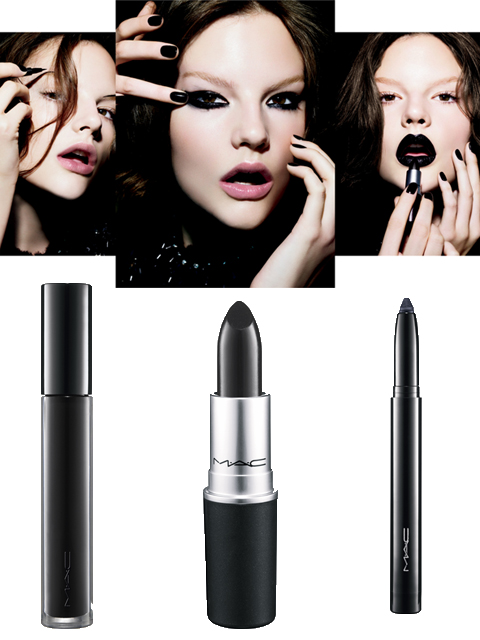 This September, MAC launched it's StyleBlack collection. In case you missed the memo, the goth look is coming back and it's going to be big. How big? Well, YSL is coming out with a black lip gloss, Lancome already came out with one, and now MAC has a whole range of black-tinted products so that you can choose how you want to wear your black (check out the image to the left). Yeah, like I said, it's going to be big…. in the fashion world of course.
Unfortunately, black lipgloss and lip stick, unlike black nail polish is hard to pull off. What makes it different is that wearing a dark coloured lip ages you instantly. When I tried on MAC Dubonnet lipstick (a dark red,) I was told that I looked like someone's mother instead of looking like myself. I guess the colour just wasn't fresh and young enough.
I then went on to try a dark violet matte lipstick – Night Violet. I thought that a matte dark mouth might be a little easier to take than an creamy lipstick. That didn't work so well either. I had forgotten that work is usually a no-makeup-whatsoever zone let alone one where you can experiment with style. I ended up rubbing off the lippie before the day officially started. It was just too out there for that day.
The black lip gloss got vetoed before I even left the house, of course. I tried putting it on top of my prettiest pink lippie, and that didn't work so well either. It turned out that the black is just too overwhelming for everyday wear.
The MAC Greasepaint Stick in Intense Black (far right in the above image), on the other hand, is a totally different story. It is entirely wearable and has the lasting power of a quality waterproof eyeliner. Of course, it tends to go on a little thick but that's the nature of the beast and you just accept it. Before going to a party, I decided to commit to the goth trend in my own way – with tact. I lined my eyes with the Greasepaint stick and then smudged with my smudging eyeshadow brush. The result was that I had a nice soft line around my eyes. It made them pop but with the thicker than usual line, I still pulled off a look that was different from the everyday. It was goth makeup my style.
MAC's StyleBlack collection is on counters now and the Greasepaint Stick in Intense Black retails for $17.50 Canadian. The line also includes a re-release of MAC's Nocturnelle nail polish ($14.50) which is a creamy rich black. The last time it came out, I believe it sold out within the week at my local counter, so if you need to stock up on it, get it before it's too late! Products will only be at counters until they sell out.