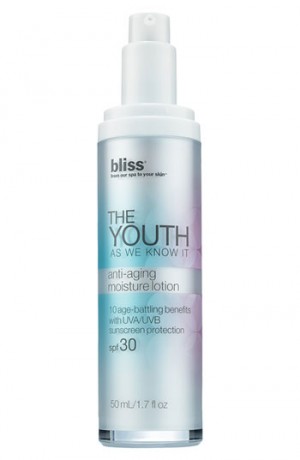 Sunscreen specifically formulated for the face is a must have for me, and I wear it all year round. My requirements are sunscreens that don't have white residue and don't leave my skin feeling greasy so that I can still apply makeup on top.
Thank goodness for Bliss' The Youth As We Know It Anti-Aging Moisture Lotion SPF 30. This is the best face sunscreen that I've used this year. It blows all the others out of the park with it's light silky feel, and easy application. The great thing about this sunscreen is that it has dimethicone in it so it almost feels like you're putting on a primer when you apply it. The sunscreen even works like a primer because it's slightly mattifying and foundation just seems to glide on afterwards. My skin looks smooth, is soft to the touch, and I have the piece of mind that I'm protected by SPF 30. The dimethicone is oil absorbing by nature, and so I do find that my skin is less oily throughout the day.
At about $80 per bottle at Sephora, this is one of the more expensive sunscreens you can buy, but it is amazing and totally worth the money. I've already reviewed some drugstore sunscreens, and this one is way better than them, so I can see that the money is going towards a better formulation and ingredients. This has a primer feel and is not greasy so it's easier to wear. I would rather spend $80 on a sunscreen I actually want to use, rather than less money on a sunscreen that's not as nice of a feel.