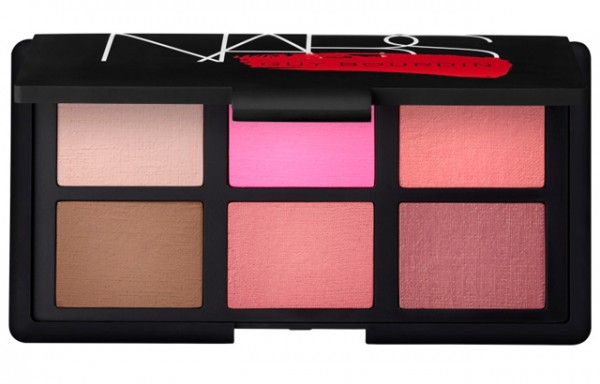 This has been the year of HAC: Highlighting and Contouring, and this fall particularly, we've given you so many ways that you can practice this art on your own.
And now we'd like to share one more amazing tool that can help you get chiseled cheekbones without too much trouble: it's all thanks to the Nars x Guy Bourdin One Night Stand cheek palette.
This amazing novella-sized palette contains 4 blushes, 1 bronzer, and 1 highlighter as well as a huge mirror.  The colours included are:  Blush in Laguna (diffused brown powder with golden shimmer), Deep Throat (flirty, sheer peach), Orgasm (peachy pink with golden shimmer), Mistinguette (bright pink), Goulue (medium pink), Devotee (highlighter).
More than anything else, I'm immediately drawn to the Laguna bronzer and Devottee highlighter which are paired in the palette and that's how I knew that the bronzer was clearly meant to be used as contour.  Now, I know what you're thinking: Henna, there's no way I can use Laguna as a bronzer, it has shimmer in it.  To that I say just try it.  I found that the shimmer is actually super subtle, and Laguna has just the right amount of brown and taupe in it to actually cast a shadow at the right places without it looking too obvious.  The Devotee highlighter is a pale white shimmer that would look good on anyone.
The contour and  highlight are so amazing that the blushes in the palette are just the cherries on top of this face powder sunday.  All the really popular blushes are included: Orgasm, Deep Throat are there along with Mistinguette, which is a bubble gum pink that is matte and blends well with any blush, and Goulue which is a deeper pink.  I find myself reaching for Laguna the most, along with the Deep Throat blush, but the great thing is that I'm able to blend blushes to create the perfect colour for my look each day.
This palette is selling out quickly everywhere – last I checked it was sold out on Sephora online, but I have seen it at stores.  You can get Nars products at The Bay, and Holt Renfrew as well.  This is part of the Nars x Guy Bourdin collaboration and is limited edition.